Viti Levu Bay

Dawnbreaker
Lars Alfredson
Fri 23 Aug 2013 07:40
Pos 17:25.05S 178:14.52E
20130822 Thursday – Shân
I leapt out of bed with enthusiasm for the day, the sky was blue and the sun was shining, this promised to be the first sunny day for nearly a week.
As soon as breakfast was over we set off. Just under three days to travel about 120 miles to get to Port Denerau by Saturday. Averaging 5 knots, stopping for lunch and overnighters this is a challenge. But the fine weather would speed our progress.
As we leave Makogai Island we see that most of the village have got together to clean their boat. The children are on school holidays so are enjoying the freedom.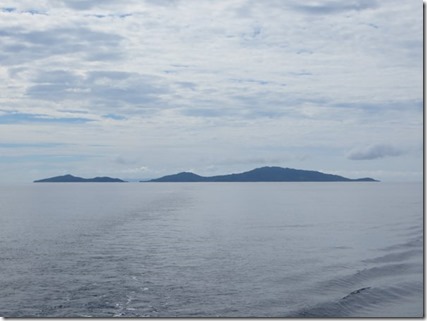 Farewell to Makogai
Once underway Lars and I settle down with our books whilst Bob catches up with writing blogs and downloading pictures. I have to say that this blogging business is a full time job and I admire Bob's patience especially with the photographic record. This involves selecting the images, processing the dodgy ones and then reducing their size to put them into the Blog, all very time consuming.
Within an hour at sea the clouds gather and it's not long before the skies are spitting at us. By lunch the rain is torrential. Bob and Lars are wearing their foul weather gear and I'm tucked up in the shelter of the wheelhouse.
Rain Weaving through the reefs.
As we ease through the reefs we come across an increadible sight of people apparently walking on water. In fact they've been dropped on the reef as the tide falls to fish for whatever it is they find their trapped on top when the water level drops.
Walking on water.
Dropping anchor we stop for lunch, bacon sandwiches. Then off again as we need to get to the north east corner Viti Levu Bay in time for sundowners.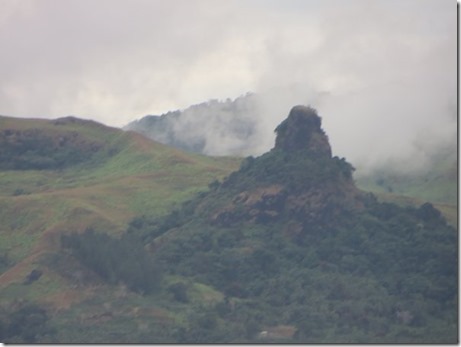 Wow, what a sun downer. Never have I seen such spectacular skies and Bob, with the patients of Job captures some beautiful shots. One of them must be a prize winner.
The sky's on fire!!!
Luckily the rain has stopped and I didn't have to do any serious cooking as I'd planned to recycle the left over bolognaise sauce with pasta. After dinner the boys decide to catch up and send the Blogs as we have signal at last.
Just an excuse, they were afraid to take me on at Mexican Train – such poor losers.
Night, night. I leave them to their blogging and snuggle down in by bunk.
Mrs Blog
---