larsen city

Dawnbreaker
Lars Alfredson
Tue 2 Aug 2016 21:43
POS 57:31.95N 154:00.3921W

We had a great sail today. Good winds and speed. Even considered hoisting the gennaker but the wind kept increasing on us every time we decided to hoist it. We managed so far to bring up on deck and air it to dry the mold. After a while we decided to wing the genoa on the spinnaker pole and BANGggggg. The fitting that ties it to the mast broke and the pole went intonthe water tied to the sheet. All back onboard and repair ahead, but not before long meetings of the technical staff as to the proper procedures hahahahaha
We are on our way to Larsen Bay a long arm that cuts to the center of kodiak island. We plan an expedition tomorrow before we continue our journey through this fantastic Alaska wilderness. This morning we spotted a red fox and deer.
Reaching Larsen Bay "city" zigzagging in a maze of signets and fishing boats. As we approach a plane lands. Incredible life depends on daily deliveries by plane at this end of the planet. Barges and planes connect Alaska.
We are moored at the towns marina in a hope to catch a warm meal and avoid the japonese noodles onboard.
Kkkk. Just learned there is no restaurant, cafe, grocery shop, liquor store, internet, showers or even worse. Jap noodles it is.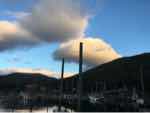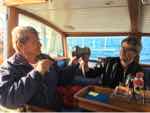 ---