Karnivalgänget

Dawnbreaker
Lars Alfredson
Tue 15 Feb 2011 21:22
Pos 13:22.863S 38:55.537W
In Bahia we do it slowly!
Detta är ett uttryck i den delen vi just nu befinner oss. Det är nya medlemmar på båten.
This is a saying in the part of Brazil we are now. There is new crewmembers on bord.
Från vänster Lena, Sanna, Thomas och Urban Karnivalgänget
Left to right
Efter en lång flygresa där vi två gånger flög över Salvador tog vi mark och alla väskor kommer ut på bandet.
Kapten Lars hade ordnat en Gubbe med skylt. Nu kommer första upplevelsen av Brasilien. Vi visar ett papper på vad vi ska.
Gubben ringer i telefonen. Gubben kan inte ett ord engelska men pratar med oss ändå. Till slut överlämnar han telefonen och
en röst frågar om vi inte skulle ha en sightseeing. Nej vi ska till marinan och så blev det. Väl på båten blev det en lätt frukost. Salvador väntar.
After a long flight where we twice passed over Salvador, we landed and our bags came out on the conveyor belt.
Captain Lars had arranged a man with a sign. Now comes the first impression of Brazil. We show him a paper with the adress of the Marina.
Man does not speak english but he speaks a lot. Finally he passes a telrphone and a voice askes if we are going on a sightseeing tour.
No we are going to the Marina and eventually got there. On the boat we had a light breakfast. Salvador awaits.
Gamla delen av Salvador Mot Ilha de Tinharé
The old part of Salvador Towards Ilha de Tinhare
Vädret är perfekt för våra vita kroppar, mulet och 32+. Vi har idag åkt ribbåt med stopp för bad och mat.
Med var ochså två äldre herrar från en tysk grannbåt.
The weather is perfect for our white bodies, overcast and 32+. We have today had a ride in a rib with breaks for swimming
and food. We where accompanied by two older german gentlemen from a boat next to us.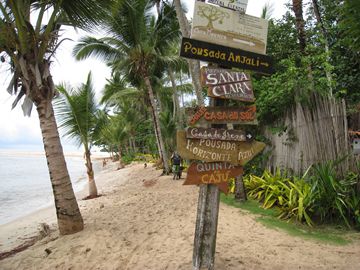 Ett stopp runt ön Ilha de Tinharé Tysken Jurg funderar byte av båt. Bavaria mot.........
A stop around the Island Tinhare Jurg the German contemplates changing his Bavaria.......
Färden runt ön gav oss många upplevelser. Det gäller att hitta på lösningar för att förflytta sten och bensin.
The trip around the Island gave many impressions. New solutions for moving stones and filling petrol
Fem män ska flytta stenhögen till en färja, en skottkärra. Slang ner i tanken, sedan ner i dunken. Sätt munnen över
dunkens hål. Blås och vipps så rinner bensinen ner i tanken.
Five men are moving the heap of rocks onto a ferry, A hose in the container and blow and the petrol goes in.
one wheelbarrow
Det gav ingen pärla. det gav det här.................................... Toaletten. Sanna finns bakom Lenas rygg. Där finns
ett hål i golvet.
It did not give us a pearl, it produced this........................ The toilett. Sanna is behind Lenas back. There is a hole.
Vad vi förstått är att i Brasilen är is mer viktigt än det är för er där hemma just nu. Här köps det is i stora säckar för att kyla ölen på stranden.
Det är viktigt att veta vad man ska göra med isen. En is för kyla, en is för groggen.
What we learnt is that in Brazil ice is more important then it is for you at home right now. Ice is bought in big bags to cool the beer on the beach.
One sort of ice for cooling another for your drink.
Nu har vi påbörjat vår resa mot Rio.
We have now started our trip to Rio.
Kram till er alla som läser.
Hugs to all that read this.
Urban
---