Rio de Janeiro 5 mars.

Dawnbreaker
Lars Alfredson
Sun 6 Mar 2011 15:57
Hej !
Sista dagen i Rio blev ett "dygn" av två skilda världar. Vi tog en tur i Favela på dagen. Guiden på turen bodde i en Favelan.
Vi fick många intressanta vinklingar på hur dessa samhällen. Kvällen och natten tillbringades sedan på Sambodromen.
Platserna var utmärkta. Mitt imot var en del av juryn som tydligen var viktig. De första i varje tåg stannade där och gjorde lite extra.
Vi är mer en nöjda med detta besök. 05.30 gick vi till sängs.
Thomas, Sanna, Lena och Urban tackar Lars för denna härliga resa. Vi tar med oss många härliga minnen.
The last day in Rio was a day in two different worlds. We made a Favela tour in the day. Our guide lived in one of Favelas we
visited. We got lots of interresting information about the social differences in Brazil.
The evening and night was spent in the "Sambadrome". We had very nice seats, across from jury. Every Samba School stopped
there and did some extra numbers. We had a fantastic time, Back on the boat at 05.30.
Thomas, Sanna, Lena and Urban thank's Lars for a wonderful trip. We bring many nice memories with us home.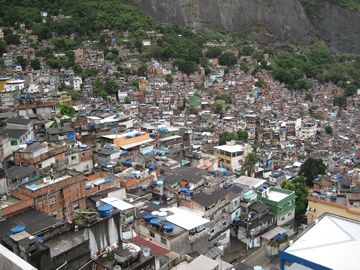 Favela
Favela Roshina
Bilderna får tala för sig själv. Det går inte att beskriva kännslan
The pictures speaks for themselves The feeling can't be described
Nu ringer vi hem
Let's call home
En mycket nöjd grupp turister
A happy group of tourists
En något upprymd och lite trött Urban överlämnar nu bloggen till Bob.
An excited and tired Urban is now leaving the pen to Bob.
Urban
---