Pantry ready to go ....

Dawnbreaker
Lars Alfredson
Mon 17 Oct 2011 00:32
Having done battle with Mosquitos most of the night I found myself wide awake at 0600 (UK 10am) so up to the Club for a shower and get to work on the Blog. When I get back to the Yacht everyone has surfaced and Thomas and Peter are rummaging through the bilges to make and inventory of what's on board before we set out for the "Great Shop" for two months supplies of fine wines, beers and gourmet delights.
Below it looks like a Customs drug bust, floors are up and tins of varying historic interest are produced for inspection, noting and possible rejection. Sell by dates and the varing currency lables on such tins tell of long travels to foreign parts, for instance a price tag of $1.90 and a sell by date some many years past, tells of trips to the USA.
But to business, after some discussion on how to unload our purchases its decided to try a seaward approach as the low tide has made the pontoon access steps to resemble the north face of the Eiger and the steps hang dangerously near verticle. Lars is left to deal with the continuing saga of the generator whilst myself , Peter who has returned (non the worse for wear) like the prodigal son, to resume his duties are led by a fearless Thomas demanding everybodies credit card and pin numbers, passports and cash for the expedition.
Arriving at the great wharehouse we are each issued with a trolley and a list and set about our appointed task, I get the booze run.
We finally converge on the checkout and Pesos 5500 later we hire a van and driver and send Thomas off to the Club while Peter and I find a kamakazee taxi driver for our white knuckle trip back to base
Here Thomas had arrange for the Crane and Club boat to load up and deliver direct to the yacht, and with the help of the Van driver all was safely delivered, well except for the case of Coke which somehow managed to slip into the harbour but fortunately floated and could be rescued.
Then all hands to the pumps in manner of speaking, I remained on deck stuffing cases down various hatches while others toiled in the bilges. Due a shotages of space of some of the beer had to be drunk to alleviate this problem.. well some days your lucky !!
and so over to Thomas for the details,
Today wholesale shopping at Makro. Thanks to good connections we got the use of a Makro passport .... Big discount I tell you. 4 hours on a basic shopping list - see below ....
100 liters of red wine
400 liters of beer
1 case of whiskey
1 case mixed Gin, Run and Vodka
70 liters of tonic water
20 liters of water
20 liters of juices
20 liters of Coke and 7Up
And ....of course
Some FOOD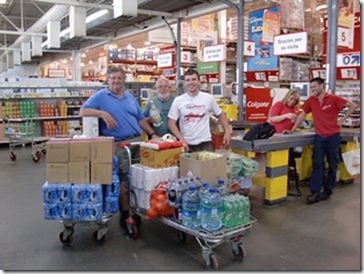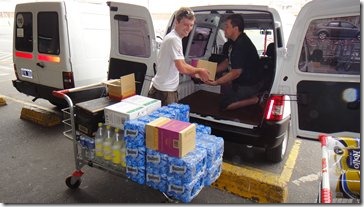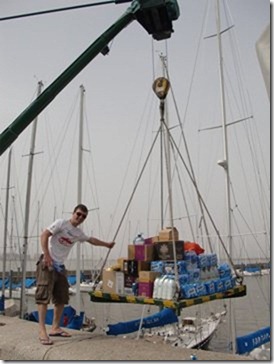 Thomas
Sent from my iPad
http://blog.mailasail.com/dawnbreaker
=
---