Vatuliwa Island

Dawnbreaker
Lars Alfredson
Sun 4 Aug 2013 08:46
Pos 16:51.94S 177:26.97E
20130804 Sunday
A day of rest for some but I struggle on keeping the blog up to day, otherwise Thomas will be writing nasty things on Facebook!
This morning and as predicted the Fiji Princess arrives on her mooring of Blue Lagoon beach. As we breakfast were buzzed by some demonic helicopter that insist on flying up and down the beach. Lars who didn't go to bed until the early hours of this morning is forced up from his slumber by the noise.
As if this isn't enough a seaplane arrives to add to the general noise level, don't these people know its Sunday, a day of rest! Enough is enough and we're off to the smallest desert island we can find, so its anchor aweigh as we head for Vatuliwa some three hours away.
Last nights wind has died so it's motoring all the way. Our destination is and island a couple of hundred metres long with a nice sandy beach, fronted by palm trees and with a very interesting geological make up. The surrounding reef looks user friendly and very soon were exploring.
Deserted Island and reefs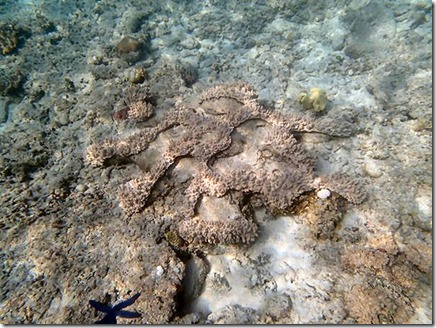 A thing of nightmares.
Returning for lunch Lars and I compare notes and afterwards drag Shan off to explore both the reef and the island, where we discover signs of wildlife.
Lunch is served
On our return were visited by one of the villagers who asks if we would like to come for Sevusevu. Shan presents him with some coloured pencils and a calculator for his kids as we diplomatically decline as were off early in the morning.
Visitor from the village
As we lounge on the deck, Lars directs our attention to the shore where he has spotted the wildlife, a small herd of goats.
Not so deserted
I'm still having problems with my new camera fogging up and it's driving me nuts. Despite this I manage to get some new species, though the beach pictures are US.
Condensation
Happy hour, Sunset, and beef in oyster sauce with Chinese noodles for dinner, then more blogging and picture sorting, will I never be free?
Bob the Blog
---