Tahuata

Dawnbreaker
Lars Alfredson
Sat 26 Jan 2013 01:49
Ile Tahuata, Marquises 12-18 Jan 2013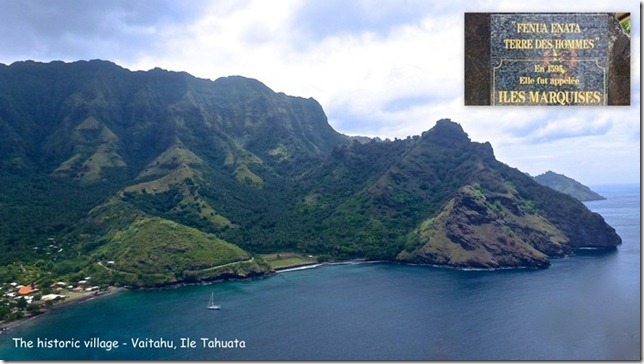 The historic village of Vaitahu is beautifully set between green high vulcanic mountains. Fantastic nature as always
here in the Marquesas. 1595 the first europeans (the Spanish) arrived. Here the phrase:
"Marquesas- Terre des Hommes (Land of Men)" was first used.
Den historiska byn Vaitahu ligger vackert inbäddad mellan gröna spetsiga vulkaniska berg.
Naturskönt och vackert som alltid här i Marquesas. 1595 kom européerna hit för första gången.
Det var spanjorer. Och det var här uttrycket "Terre des Hommes (land of men)" myntades.
This week everybody is waiting for the supply ship that arrives once a month from Tahiti. The island has no airport so
all supplies come by boat. The shelves and freezers are empty in the few shops on the island. No beer (bad) and nothing
else to drink either. Everybody is waiting. It is like a party when the ship arrives and the pier is filled with people, trucka and goods.
Den här veckan kretsar det mesta kring ankomsten av förrådsfartyget från Tahiti.
Ön har ingen flygplats så allting fraktas till och från med båt. Hyllor, kylar och frysar på öns få butiker
gapar tomma plus ölen (illa) är slut och Coca Cola (lika illa) plus allt annat drickbart.
Alla verkar vara i väntans tider. Rena feststämningen när by och kaj fylls med öns befolkning plus fordon
och grejor av alla olika slag.
The production of copra we thought was extinct, but here dried coconut is packed in jute sacks for transport to Tahiti.
What can be the end product from this sundried, stinking coconut flesh. Most probably an expencive beauty product.
It is difficult to figure out what the islanders main income is. It is just copra, some bags of lime fruit and some bananas that
are exported and so much is imported.
Coprahanteringen trodde vi var utdöd men här packas torkad kockosnöt i jutvävssäckar för transport till Tahiti.
Vad månde slutprodukten bli av soltorkad härsken illaluktande kokos? Säkert någon dyr biologisk skönhetsprodukt.
Svårt att förstå ved de lever av. Bara copra, lite lime och några bananstockar ut från ön och så mycket som köps in.
We have run out of potatoes. It is to hot to grow them here. We buy 6 kg imported from New Zealand. That will be nice for dinner.
Our storesare otherwise still well filled-
Vi saknar potatis. Odlas konstigt nog inte, annars verkar allting som planteras växa så det knakar,
så det blir 6 kg pärer från New Zealand som vi inhandlar. Ska bli jättegott. Annars är förråden ombord välfyllda fortfarande.
Fruit we are given or pick on our walks in the surrounding hills and mountains. We have put up nets in the cockpit that we fill
with mango, pomelo, papaya and lime and off course we always have a stock off bananas hanging in the stern.
Frukt plockar vi, pallar eller får på våra svettiga promenader i omgivningarna ibland berg, kullar och plantager.
I sittbrunnen är näten fulla med mango, pomelo, papaya, och lime plus en hängande bananklase, som alltid.
We fish when we need to on the passages between islands and atolls. The Polynesians eat all kinds of fish, large and small.
They love tuna, preferably more or less raw. The national dish must be "Poisson Cru" (fresh tuna marinated in lime), everybody loves that,
and it is quite nice we think.
Fiskar gör vi när det behövs på passagerna mellan öar och atoller. Polynesierna äter all fisk, stort som smått,
men älskar tonfisk, helst mer eller mindre rå. Nationalrätten (den enda tillgänglig för oss västerlänningar verkar det som)
är Poisson Cru (lime marinerad dagsfärsk tonfisk) som alla älskar. Smakar helt ok.
We saw some fishermen that bit into the new caught fish under the gilles and drank the blood. A bit to strong for us.
We stick to saschimi.
De riktigt väderbitna grabbarna biter av en bit av fiskhuvudet vid gälarna och suger vällustigt ut blodet.
Lite väl magstarkt för oss blöta nordbor. Vi håller oss till saschimi.
We now have one island, Fatu Hiva, left to visit before we head back to Tahiti again. For 4 weeks we have cruised around here
and feel like we now the place now. We are longing for the cristal clear lagoons of the Touamotos again.
Vi har nu en ö kvar att utforska, Fatu Hiva, innan vi lämnar Marquesas och vänder stäven mot Tahiti igen.
4 veckor har vi kryssat omkring här nu, känns som om vi kan detta nu. Vi längtar efter Tuamotus fiskrika kristallklara laguner nu.
Hälsningar / Regards
Fred, Grete och Lasse
---