Waterfall Bay, Vanua Lava

Dawnbreaker
Lars Alfredson
Wed 9 Oct 2013 07:15
Pos 13:49.67S 167:22.92E
Waterfall Bay
Saturday 5/10
We are now turning around to go back to Port Vila after our nearly one month cruise to the northern islands of Vanuatu.
We will now have the trade wind against us all the 300+ NM back.
Our first stop is Waterfall bay on the west side of Vanua Lava. We drop the hook late afternoon and decides to wait until the morning to visit ashore.
Kereli soon comes out in his canoe and wishes us welcome.
Sunday 6/10
In the morning we go in to the shore and are met by Kereli again. It turnes out that he is the Custom Chief for this area. He brings us to his house were we are greeted by the rest of his family and get a nice flower behind our ear. Kereli hold a welcome and information speach and finishes with singing a beautiful song for us together with his wife Elisabeth.
This is the nicest reception we have had anywhere in Vanuatu.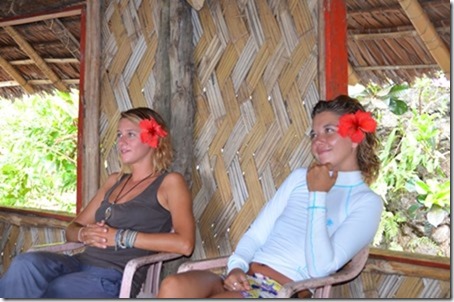 Five minutes away are the waterfalls and we go there to see them and to have a swim in the pool.
After a nice swim we sit and talk to Kereli and some other locals that are having a picnic nearby. Tif and Diego goes out snorkeling around the reef.
Late afternoon we set off south again heading for Esperitu Santo some 100 NM away.
Lars and crew.
---