Cairns

Dawnbreaker
Lars Alfredson
Wed 11 Mar 2015 08:22
POS 16:55.1405S 145:46.8993E
Moored at Marlin Marina right in downtown Cairns. Far from the tropical cyclones but under heavy rain.
Ivan will leave us here.
It has been a great 5 weeks sailing with him. An extraordinary gentle person and a great personality. We sure will sail together again. Love the Danish rainbow umbrellas.
Have a safe trip home to your love …. Lone
Now it's only Martin, Lars and Thomas until Steve and Sanna return to continue to PNG.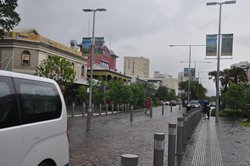 ---