Tonton is back on board

Dawnbreaker
Lars Alfredson
Mon 24 Jun 2013 05:18
20130620 Thursday
Having been ashore and settled our account we weigh anchor and set off through the reef following the course of the ferry. Despite our chart plotters showing large green areas of reef we bravely venture forth casting care to the wind and me to the bow to spot.
It's a six hour trip with only just enough wind to fill the jib as we motor sail at 6+ knots. We arrive at Port Denarau to chaos. Despite having booked in advance the whole system has collapsed due to some itinerant yachtsman has taken a mooring without booking in. Consequently the yacht in front of us is put on Nr12 which had been allocated to us which leaves us pottering around the harbour "Homeless"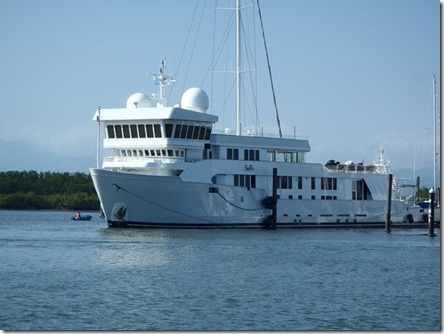 SuRi the ugly ship. Night lights
Leeann from the Marina Office saves the day and tells us to go into the commercial harbour and were guided to a berth on a pontoon opposite an ancient square rigger where they're busy painting over the rust of its decaying hull.
Apparently built in 1897 in New Zealand it's now a tourist ship taking up to 40 passengers. They'll certainly get their moneys worth of nostalgia but I wouldn't like to be the one running up the rigging to lower the sails, suspended on some very dodgy looking rigging!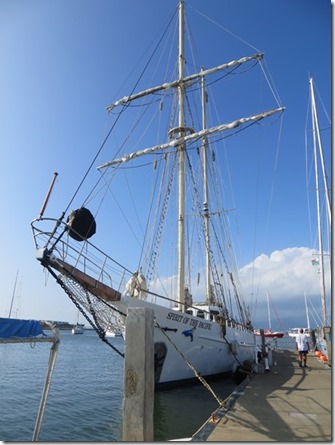 The old and the new.
Perfecto, we don't have to use the dinghy as we walk ashore for dinner watch the rugby, England playing Argentina, before retiring.
20130621 Friday
We visit Leeann to find out our fate as we couldn't get a booking for today. Good day Leeann say we, she smiles sweetly, It's a very good day for you says she as you can stay on the pontoon for another day.
We spend the day battling with computers trying to reinstall all the navigation aids into the new machine. Unfortunately since the dinosaur that it replaces ran on window 98 we have a big problem with drivers as we are now on windows 7. Enough, pausing only for lunch we struggle on.
Then its sundown and time to relax and forget the problems for another day and anyhow Lars has spent so much time downloading data his card needs topping up and refuses to play.
We head ashore to our favourite restaurant to await Ton ton's arrival from Auckland at around 8pm. We are about to order and are just sipping our first glass of wine when a large shadow falls across our table, it's the man. Reeling slightly he informs us he'd arrived at 4pm and had been trying to contact since via Skype, radio and phone.
Having spent his waiting hours chatting up the staff and seeking the comfort of the bar he's in fine form and we order and dine. All is well until a very attractive you lady passes and he away. Next thing her and her partner join us and it turns out he's an airline pilot for Korean Air. As Shan will be flying out with them I comforted in the knowledge that he refrained from drinking!
Bob the Blog
---