Black River Bay

Dawnbreaker
Lars Alfredson
Fri 29 Apr 2022 23:07
POS 18:0.17N 77:50.27W




We caught dinner. Caribbean Painted Mackerel.
Black River is Jamaica's widest river and home to our largest and most feared reptile, the American crocodile. Our crocodiles are only found along the south coast, and since the Black River is located in one of our southwestern parishes, this is perhaps the best place to see them up close.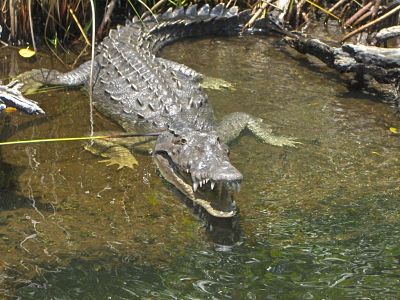 Cigar attack! We were approached by two speed boats carrying two people each. Approached from port side at high speed jumping the waves. Both crossed our bow than circle back to our bow.
No pirates. Just Cuban cigars smugglers trying to sell us some contraband. First we considered it to be a rouse to board. But they had many boxes loaded. Probably we were on their route from a supply ship to shore and saw an opportunity for extra profit.
We firmly declined the offer and were ready to fire some flares into their boat.
We are about 3,7nm from the Jamaican coast and they came from far away in the horizon. Probably from international waters.
Reference for humour
The interaction took less then 2 minutes before they got back on their way.
Position 17° 41.047' N 77° 12.959' W
---