Birthday Bob (The ancient mariner)

Dawnbreaker
Lars Alfredson
Fri 5 Jul 2013 05:28
20130703 Wednesday
More shopping, until we get bored and retire to the Yacht club where we join Tonton who we had left behind to nurse his leg. After his fall through his balcony last year they had to operate on his knee, this collapsed yesterday so he's resting up.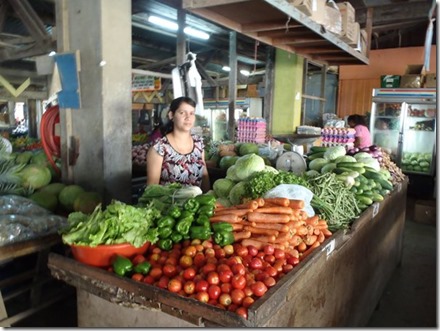 Veggies. For Marks collection.
A quiet day for a change the Club is buzzing with the Rally crowd clutching their charts and discussing routes to their next destination. We dine aboard; bar-b-qued pork chops with a creamy mushroom sauce and spaghetti.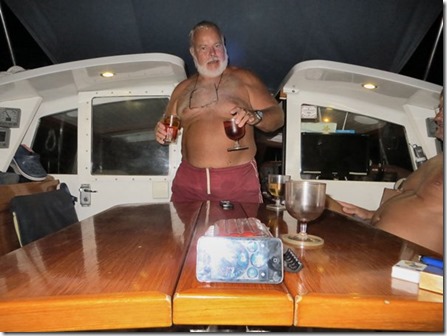 Dinner time. Sommelier!
20130704 Born on the 4th of July
Did I hear someone say "Cue song"? http://www.youtube.com/watch?v=aFQpYd39eOs It's my birthday. We've spent the morning in the vegetable market and looking for cooked meats for sandwiches. Ice is purchased from a local hotel so now we're all stocked up.
After lunch aboard we move to the fuel berth to take on water and pay our mooring fees, and then we motor out of the rain shadow of Savusavu down to the resort several miles down the coast and into the sunshine.
Shopping more stuff. Mangrove reef.
Dropping anchor, one of their boats comes out to welcome us. We had phoned to make reservations for a birthday dinner but are told they are fully booked so we ask the guys in the boat to see if they can get us in. They say they will see what they can do. In the meantime they direct us to a good snorkelling spot used by the resort and guide us to a buoy that marks the spot.
Jean-Michele Coustou Resort.
The sea is very choppy as we swim against the current that runs over the reef. The visibility is fair and there are plenty of fish though there is a lot of broken coral.
Fish, Shan has the book.
They confirm that they are indeed fully booked but we're welcome to over to the Bar. We take the dinghy across at 7:30. The guitar band is seated around a large bowl of Kava, playing and singing in the background as we check out the cocktail menu.
In the end we decided to work our way through it. Tonton is in negotiations with the Manager; still trying to get dinner, there is some success as he sends us a smoked salmon starter and buys me a birthday drink.
Later we join the band and are included in the Kava rounds. One clap when served three when finished, down in one. It still looks like muddy water and tastes much the same. Tonton has taken Lars back to the boat having wisely opted out of the Kava session.
He has the last laugh too, watching our antics trying to get out of the dinghy on our return. Another year older but not necessarily wiser!
Bob the Blog, The Ancient Mariner.
P.S. No pics of the festivities due to tontons malfunctioning camera.
---