Ua Pou, Marquesas

Dawnbreaker
Lars Alfredson
Thu 27 Dec 2012 18:48
Fred has written the Swedish text and Lars have tried to translate into English.
English text in blue.
Översegling Tahiti till Marquesas, 1050 NM
The crossing from Tahiti to Marquesas, 1050 NM
Vi längtade verkligen efter att komma fram till Marquesas ("The Land of Men"),
överseglingen från Tahiti via Tuamuto Islands var en dryg och blöt historia.
Tio dagar undervägs och med mycket gungeligung, regn, sol och rusk om varannat
och med vinden mitt i nosen, vindarna har inte precis varit oss nådiga. Fyra genuaskot
lyckades vi ¨spränga¨. Ett tag funderade vi på att använda ankartrossen som skot men
det blev en kompromiss med dubbla skot istället. Tur att vi förberedde en del färdiglagat
som bara behövde värmas. Att laga mat under gång var rena workout passet.
We really longed to get to the Marquesas ("The Land of Men").
The crossing from Tahiti via the Touamotos turned out to be a long and wet one.
10 days with big waves and lots of rain, sun and rocking in a violent mixture.
Which ever way we tacked the wind was ded on the nose. We managed to break the genoa sheet
four times. For a wile we considered using the thick anchorline but compomised with double sheets
in the end. Luckily we had prepared some ready cooked meals, just to warm up. Cooking turned out
to be like a work out.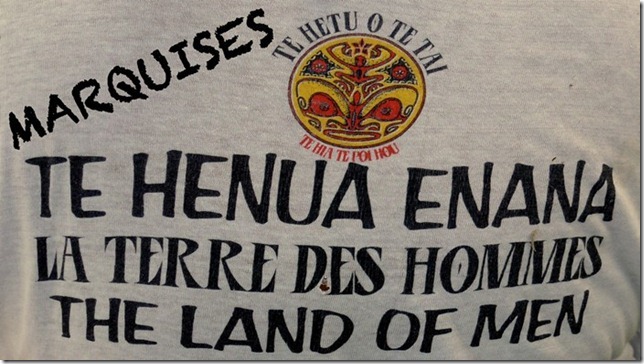 Apropå mat så fick vi plötsligt jättehugg på våra linor, i 8 (ja åtta) knops fart. Det var
på vippen att vi tappade allting överbord men linan, +200 kg, från Pitcairn höll, det blev
ömma fingrar istället. Lasse lyckades till slut med visst besvär sakta ner båten. Vi slet med
en lina samtidigt som vi, utan att veta om det, fick napp på den andra, så lite snopna blev vi
när vi småningom skulle veva in linan på rullen, bete och hela linan var försvunnen.
Det var en fyramiddagars tuna, Skipjack Tuna, ett muskelknippe på ca 10 kg vi slutligen
lyckades landa. Jättegod (saschimi, fisksoppa …).
Talking about food, we suddenly got a big bite on our fishing line in 8 knots speed. We nearly
lost the fish but our 2mm line from Pitcairn held. When Lars managed to slow the speed down
we could land a four dinner tuna, a Skipjack Tuna of +10 kgs. This will make very nice saschimi
and fish soup and other nice meals. We were a bit set back when we noticed that in the commotion
we lost our second line, hook and line to another fish.
Två stop på korallöar blev det på vägen, Rangirora och Manihi i Tuamotu arkipelagen.
Det behövdes. Skönt att slippa nattvakt, kunna sova ut ordentligt en hel natt och samla krafter.
Det enda sällskap vi haft, som vanligt i detta oändligt stora öde hav, var lekfulla grasiösa
delfiner som kryssade framför bogen och tom gjorde akrobatiska hopp, kullebytta i luften
de ni.
We made two stops on the way, on Rangiroa and Manihi in the Touamotus. It was needed.
Nice to get a full nights sleep and gather strenght for the next bit.
The only company we have, as usual in this big empty ocean, is playful dolphins, jumping and
doing flips in the air.
Vi ville gärna komma fram till julafton och vi lyckades precis pricka in det, 11:15, ankrade
vi i en soldränkt tropiskt bildskön liten vik, Hakamaii, utanför vulkanön Ou Pau.
Solen skiner. Härligt…. Vi tar en ankardram och sedan blir det bad i havet och välbehövd
tvättning och dusch. Under snorklingen siktar Fred sin största Manta, ever. Ett stort svart
flak till fisk, minst 4 m, som lojt glider sakta över botten.
Dags för strandhugg och besök i byn. Nu gäller det att parera dyningarna och hoppa i mellan
de hala stenbumlingarna och dra upp dingyn på land. Här finns inget skyddande ytterrev.
Lummigt grönt med frukt och blommor överallt, vackert och fridfullt. Byinnevånarna håller
på att juldekorera i och utanför kyrkan där det senare ska bli kvällsmässa.
Överallt pruknar träd med frukt; mango, grapefrukt, breadfrukt … och vi får en hel kasse
full med underbar nyplockad mango. Just nu är man inne i perioden då allting blommar
och bär frukt.
Under resten av lulaftonseftermiddagen lyssnar vi på julmusik, dricker hemlagad glögg
och bara njuter. Ingen svensk julskinka eller dansk "andesteg" här inte, det blev chilensk
biff, burksvampsås, potatisgratäng och så massa mango till dessert plus franskt skitvin.
Vi njöt! ! "Lite" saknade vi riktig julmat och självklart er där hemma.
We wanted to arrive on Christmas Eve and managed to arrive at 11.15 when we anchored
in a beautiful bay, Hakamaii on the west side of Ua Pou (pronunced Wapoo). The sun is warm,
lovely... we have an "anchordram" and then jump in the 30 C water for a swim and a clean up.
Snorkeling around the boat Fred spots his biggest Manta Ray ever!. At least 4 m across. A
giant slowly gliding along the bottom.
Time for a visit ashore to the little village. It is very important to time your landing with the waves
as there is no reef around the Islands here.
Very green with beautiful flowers everywhere, quiet and serene. The villagers are decorating the church
for the Christmas evening Mass.
Everywhere the trees are full of fruit, Mango, Breadfruit and Grapefruit.... we get a full bag of nice
mangos, picked straight from the tree. It is now summertime when all the fruit ripens.
The rest of the Christmas Eve we listen to Christmas songs, drink homemade "glögg"
and enjoy life.
No Swedish "Julskinka" (Christmas ham) or Danish "Andesteg" (Duck). We had Chilean beef, mushroom sauce,
gratinated potatos and lots of mango for dessert, all washed down with bad French wine.
We had a good time, off course we missed some proped "Julmat" and all our familys and friends at home.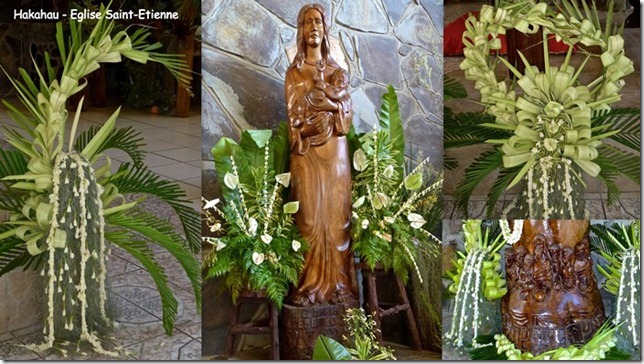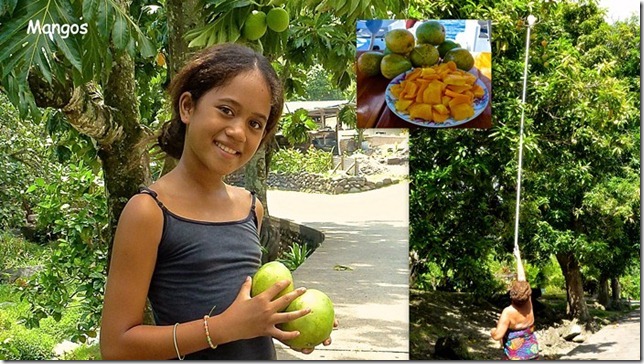 Nu har vi sakta smygit längs kusten upp till Hakahau via en övernattning i ännu en
vacker vik, Hakahetau - vilken vy - men fullständigt livsfarligt att landa där pga dålig
hamn och brytande dyningar som brakar rakt in mot kullerstensstrand och roller coaster
hamn. Vi klarades oss med nöd och näppe med vattenfylld dingy från det ovälkomna
äventyret.
Idag, 27 dec, har vi aktiverat oss. Halvdagsutflykt, trekking, upp till foten av den minst sagt
spektakulära bergsspetsen Poutetainui, som sticker rakt upp i luften som en jättelik raket.
Gissa om det var varmt och svettigt, men trots det värt besväret. Vi belönades med vackra
vyer, osannolika blomster och nyplockad frukt/grönsaker (papaya, mango, avokado …)
Imorgon bär det av till nästa ö Nuku Hiva. Vi hoppas på att hitta lite seglarsällskap att fira
nyår tillsammans med så här långt är vi enda segelbåten i sikte. Har dom gömt sig.
We have now traveled slowly along the coast to Hakahau via a stop over in another beautiful
bay, Hakhetau – beautiful views – but lethal to try and land in the big swells. We just got away
with the dinghy full of water.
Today, 27th of December, we have gone for a trek up to the foot of the spectacular Mountain top
Poutetainui, it sticks up in the air like a giant rocket. Very hot and sweaty, but worth it. We were revarded
with fantastic views, beautiful flowers and freshly picked fruit. (Papaya, mango, avokado ...)
Tomorrow we sail to the next Island Nuku Hiva. We hope to find some other sailors to celebrate the
New Year with. So far we are the only yacht around. Are they hiding somethere?
Soliga hälsningar
Sunny greetings
Lasse, Grete och Fred
---