Part 3 Jeremy's blog

Dawnbreaker
Lars Alfredson
Sun 23 Feb 2020 14:29
Jeremy's blog Part 3
" We have breakfast then motor on to a place called Rangat. It's a very ugly little harbour. We anchor for the night and settle down after dinner with a drink – Blue Margarita or White Russian - and music.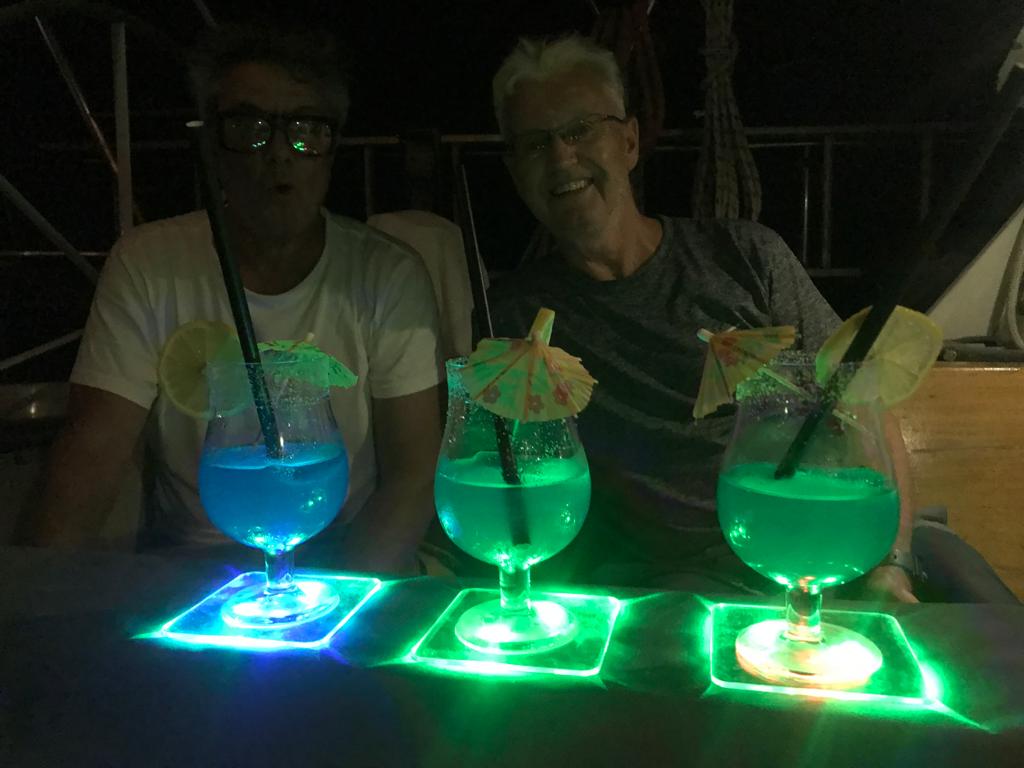 Ivan is below sleeping while Lars and I are in the cock-pit when out of the darkness comes a couple of very dark hands grabbing our railing, then a voice, a second voice, and then the bow of a small fishing boat. It turns out to be three fishermen who want to trade a couple of sardine sized fish for alcohol. They obviously saw us drinking. I had to block them from getting onto the stern of the boat and refuse their deal a few times before they vanish again. It makes you realize how easily and how innocently somebody can board the boat. I'm never really comfortable in leaving it in the night open and without anyone to keep a watch out. Though over ten years Lars has had very good fortune when it comes to theft.
Originally we were planning on heading another 50 miles north to Myabunder and Diglipur to see a beach that was well known for breading turtles but we figured it was a long slog against the wind so instead we turn south again. It was a good decision. There will be a lot of sailing ahead anyway.
We hoist up the two spinnaker-booms port and starboard and spread the two genoas out and spend most of the day running with the wind almost directly off the stern and with a respectable speed of about 4.5 knots we sail past Port Blair and around the southern tip of the large Andaman Island and come into a slightly sheltered area called Munda Pahar Beach.


Ivan and I take the dinghy and go onto the beach to check it out. We find it's a neat little national park beach that has several signs warning that crocodiles are in the area and 'Attacks cause injury and death'. Nice. No swimming for me. Ivan has been doing a lot of the cooking but this time I do a pasta. First cheese and salami and a Margarita. Not bad living on the boat.


The next morning we take the dinghy to the beach again the walk the 2 kilometres to the Bio-Park. There is a bitumen road we walk along but still the jungle around us is pretty nice to see. The park turns out to be very basic but again, the best thing is just to be walking amongst the huge trees. Some of them are called Padauk trees. They are a huge hardwood tree that Ivan said he built his summer house from – imported from Malaysia. I actually agree with the use of hardwoods. Jungles will be utilised regardless of whether the wood is useful or not and also regardless of what is grow – whether it's palm-oil trees or rice or wheat or grazing for cattle, it's all the same, it's all about economics. And if you break it down to it's basics if it's economically useful to have hardwood trees then more will be planted. That's what I have seen all through Jawa, huge plantations of Jati – teak wood – trees. It's the things that have no use to man that will become extinct. It sounds very prosaic but that's the way the world works.
We get to see various animals in enclosures of decent sizes, monitor lizards, various birds, indigenous wild pigs and deer and of course salt-water crocodiles. Then it's a walk back to the beach, dinner and drinks, though I'm generally (trying to) have a 'white-day' non-drinking day, every second day. This night Ivan grills potato slices in the over, au gratin, and I barbeque steak on the ship grill that is fastened onto the side-rail of Dawnbreaker. Again it's an excellent dinner and again an early night.


We eat very well, certainly better than I do at home, and I eat pretty well at home already. We try to halve the cooking but Ivan is definitely doing more than I am. He makes the porridge in the morning with fresh apple and various dried fruit and nuts and we also have a slice of toast with Massdammer cheese, good coffee (Lars and I anyway, Ivan prefers Nescafe, his choice), and juice. Lunch might be salami and cheese again and dinner can be anything, the tuna we caught a week ago is gone but we have steak, beef mince, chicken, cheese, salami, pickles, olives, chocolate and a river of wine. The river will run dry though. I'm waiting for the, 'I told you so' moment as I don't expect to find wine in Sri Lanka. Fingers crossed we can, but I doubt it.
The next day, today, the 21st Feb, I'm awake at 3.30am, drink my usual Bali-coffee watch a bit of Beck, see the light coming in at about 5am then see Lars come out at 5.30. He decides to up-anchor and head north before the wind picks up, so we motor for about 4 hours against a light breeze with a decent swell and end up before midday off Russ Island. It's situated opposite Port Blair and was the control centre of the old British Raj in the Andamans. We spend the morning walking around looking at the ruins of the old colonial buildings. The place has been, very well, described as a kind of British Angkor Wat. Almost all the buildings are wrapped around with Bunyan trees. It's a pretty impressive sight and a pretty good indication of what happens to yesterday's empires.

The rest of the day will be lazy. Just reading and hanging around on this side of the bay. We may take the dinghy into the town to a restaurant tonight but if it's up to me I would not be much bothered. Tomorrow we need to visit our agent to start the process of cleaning out of the Andamans and India, buy a few supplies and hopefully find a decent internet connection through some hotel or restaurant and send away some pictures. The phone sims we spent almost half a day to get have been almost next to useless, even in Port Blair. India the sleeping economic giant? I don't think so. Lumping India and China together is about as logical as putting Germany and Nigeria together. They have absolutely nothing in common except large populations. That's about all. Never expect hot climate people to have a cold climate work ethic. It just doesn't work like that. Who knows though, with a 100 years of Indian air-conditioning things may change. But then again after 100 years of Indian air-conditioning the earth will most probably be so screwed up that work ethic will become a dirty word. Maybe the colonial ruins on Ross island are a forerunner for the future– yes we are crying with you Greta.
Yesterday – the 22nd Feb – we went into town and walked around. Like other times in Port Blair we spend most of the day running around in tuk-tuks without getting much done. We can't even find a laundry so Ivan has to carry a large bag of dirty washing around with us all day long.
When you try to do useful stuff and get frustrated what do you do? Well some people are stoic and just go with the flow while others tend to lose the plot. This would have to be the reason (excuse) why I walked into an Indian barber shop and asked them to dye my (new) beard and hair. Something about being in India maybe. If everything around you is weird why not just join in the fun? No! Big mistake. Especially if its purple coloured henna and it won't wash off. I think I can pull this off now in India and it will be fine on the open sea and even when we reach Sri Lanka, even Maldives it could work – tourists in the resorts might think I'm part of the evening's entertainment. But on the 16th March I have to fly to Bangkok and Thais already think us westerners are weird enough with natural hair. Then 4 days after that it's Amsterdam. Humm. Let's see what a few weeks at sea can do.

In the evening I wash the bedsheets and we hang them up to dry. We can afford to use up a little fresh water and not pee as we are planning on filling up the tanks on Monday.
The dinghy has been behaving of late. We don't leave any alcohol on deck in the night so it has not had a chance to get drunk – that was our first conclusion from the way it was behaving. It's still very much under suspicion though and we enter it every time expecting some kind of nuisance. Lars has developed a 'crab' entry, Ivan prefers the 'bum shuffle' and I do the 'cloud walk'. So far so good. Though who knows what may happen tomorrow."
---