Boys on the loose on board!

Dawnbreaker
Lars Alfredson
Sat 15 Jan 2011 22:02
Pos 08:22.015S 034:57.169W
Who needs girl friends or wife's ... We can also manage home (boat) duties .... The last two days were quite busy.
First general cleaning and laundry duty on board and in the water scrubbing the hull. Thomas was on all fours
scrubbing the toilet while Lars was working on his bubo sterilising holder and pump ...... In the meantime the
washing machine was running two loads ... Nice smelly sheet tonight!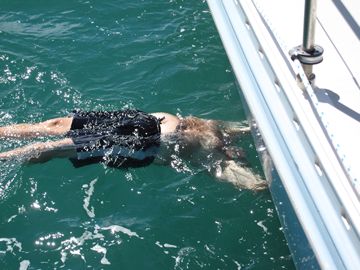 Washing on the line Thomas cleaning the bottom

During our thorough cleaning we found undesired passenger onboard from Sweden and Spain hiding in the
Nudles & Pepparkaka. We needed to exterminate them and it will require an in-depth pest control over the next days.
Inspecting the dry foods
After hiring local knowledge we made it into the Massangana river mouth for our second night at Suape.
Getting in was a slow and zig-zag effort and we hit ground several times during low tide.
Our plot with 4 groundings
So we waited for today for the pilot and high tide.
Local expertise Our pilot

We did some exploring up the river today with the dinghy before we stopped for lunch .... See pictures below.

Beatiful river sceneries Low water
As a reward ,we took the dinghy for lunch at Bar do Eloy for a highly recommended Fritada de Aratu with ice cold beer.
See recipe at the link below.
Bar do Eloy To hungry for pictures
Watchkeeper Friendly face
What is Aratu?

The small Aratu Crab (Brazil)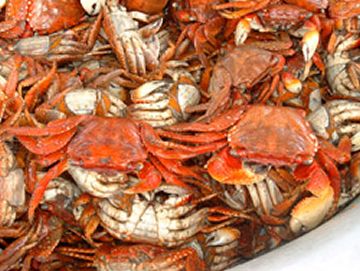 Aratu crabs

The waters of the coastal lagoons in the state of Sergipe, north-east Brazil, have always been a rich source
of various species of crab. The inhabitants of these rural areas, often employed by rich landowners in the
sugarcane plantations, gain essential nutrition from crab fishing in these mangrove-lined salt waters.
In particular, the lagoons in the area of Santa Luzia do Itanhy are the habitat for the Aratu (Goniopsis cruentata),
a small crab with tasty delicate flesh. This crustacean belongs to the Grapsidae family and lives among
the mangroves in holes in the sand of the shoreline or inside branches in the dense vegetation. Fishing for Aratu
has always been a women's activity: they would set out for the lagoon in the morning and once in the water,
sang traditional songs to draw the crabs into special wooden traps. The women then returned to the village in
---