The parcel

Dawnbreaker
Lars Alfredson
Fri 28 Oct 2011 20:52
27102011 The Parcel
0730 and everyone is up for our mob handed visit to the post office. Peter dons his rucksack and we check our kit, brown paper, scissors, tape, pen, passport and pile into a waiting taxi.
We are off
On arrival Peter is immediately recognised and the saga continues, parcel open to inspect contents, parcel resealed (With brown paper we brought with us)
Though their has definitely been attitude change. The staff are friendly and cooperative. I'm invited to film the proceding and a jolly party atmosphere pervades.
They even reseal the package for us (Using our brown paper)
Wrapping service More forms
Finally the sticky barcode label and a little red stamp are attached, and with one final photo its whisked off into the sytem.
No more forms please All friends at last
We celebrate with a tour of the city, Thomas visiting every Farmarcia we pass (We suspect he's a secret drug runner) and hardware store in search
of the elusive Pressure Cooker. I top up my pay-as-you-go card and we all try to extract cash from various banks,
Lars fails again as won't give him more than a small allowance each day.
As we arrive at the beach front there is a terrific surf running and the wind is blowing around 30+ knots sending up sand, stinging the eyes.
In the Prom wall we discover a market and visit before find a very nice restaurant right on the waters edge to take lunch.
Beach market Surfs up
Were not the only bums Dogs
A double hamburger with tomato, cheese and egg Lars and I, Hamburger "Original" for Thomas and Peter has decided to take the healthy
option of chicken salad all washed down with a "Stella" or two.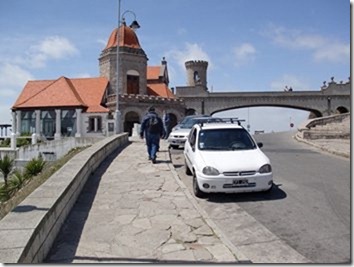 The Pier Lunch restaurant
We share an order of the best Chips I've seen in South America, big thick cut and home made. Poor Peter his salad arrives minus the chicken!
the waitress is summond and ten minutes later a large flattened piece of chicken arrives, unfortunately its only half cooked.
Beach huts Five sealions
We depart after paying a somewhat reduced bill and head for coffee and a bun at a very posh establishment further down the beach.
After sticky buns for all its to go home Peter walks we taxi.
I work on the blog and arrange to meet Lars up at the club to send it. Its shut again and in freezing wind with numbed fingers we tend to our labours.
Then its back to G& T's though we wonder about adding ice.
Thomas cooks up a heat restoring Chorizoo and chicken dinner with plenty of Garlic which reaches all the parts, that and the heating system going
full blast and circulation is restored. No-ones going out tonight, the radio announces its 4C out there which settles it.
Bob the blog.
---