Huon Valley Day Trip

Dawnbreaker
Lars Alfredson
Fri 12 Dec 2014 04:50
Huon Valley
From Port off to Huon the valley.   tonton took a dinghy excursion up the Huon River, while the Lars´ took a bus ride upriver  to Franklin.  We all ended there by different means.  The dinghy could not plane with 3 (5) onboard, so I took it to me, the fun glide on flat mirror waters of the river.
Tonton whizzing upriver …
A Valley, of river settlements and fresh produce of land and sea, sweet summer berries, crisp autumn apples, full flavored wines and cider, harmonized with the mouth-filling flavor of salmon and shellfish.
                                                                                                                Black swan
There river is populated with fish, mussels and oyster farms, strong drivers of the economy along with tourism.  There are three cities along the river.  At the mouth of the river lays Huonville, the district´s hub and the apple town.  Further down the river you find Franklin and Geeveston.  The latter I guess the only town with no Pub or bottle shop (liquor store as they call the here).
Franklin where timber shavings curl from the boat builders´ planes, is the home of "The Wooden Boat Center Tasmania".  A school of the wood boat building art.  The reason we came to Franklin.  Managed by a Danish woman that sailed across the sea with her husband (a boatbuilder) on a Danish Tall Boat, named Yukon.
A display of traditionally crafts, are moored for the visitor's delight.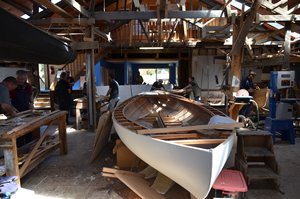 Geeveston a forest and timber town lye's further down the river.  Of a rich heritage of bushmen makes a living out of logging.  Due to the lack of a pub was not visited by the crew.
Now off to Recherche Bay on our way to Port Davey and the National Park.
---