Wrapping up the Antarctic adventure

Dawnbreaker
Lars Alfredson
Fri 17 Feb 2012 04:49
Last morning in nature Farewell to winch 2
Sista morgonen i naturhamn 2an gick också (sönder)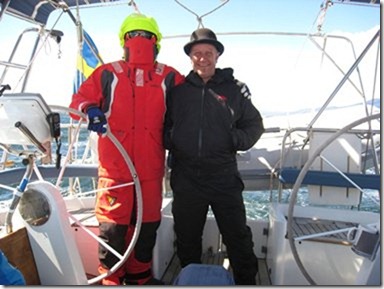 Beagle Channel Thomas and Paul all dressed up
Beagel Kanalen Thomas och Paul fullt påklädda
Peter with newfound hood shifting flags Passengers Natalia, Paul and Sarah
Peter skiftar flagg med huvan på
Temptations of civilization More beer on the way
Civilisationens frestelser Mer öl på gång
Jonathan and Roxanne
Hej !
Klockan är 01.00 lokal tid. Resan hem närmar sig. Mina 2 har som ni säkert förstått tagit hämnd på vårat tilltag med att knycka deras lamm. Med hjälp av goda kontakter har de kapat vår hemsida för en stund. Detta upptäckte vi igår. Detta hade vi inte väntat oss. Vi fick oss ett gott skratt. När de kom in till bryggan idag stod vi och väntade. När de närmar sig vinkar Tim med vit flagg.
Kvällen har vi tillbringat hemma hos Jonathan och Roxanna. Hon är en fixare för seglare. Jonathan är vädergubbe och hjälper stora och små fartyg. Jonathan visade oss mycket bra väderprogram som kan köpas genom honom. Vilken avslutning på vår resa att få sitta och äta en god middag med utsikt över Beagle Kanalen.
Det är inte lätt att med ord sammanfatta den resa vi har gjort tur och retur Antarktis. Men att vi som har gjort resan kommer att minnas detta för all framtid är säkert. Frusit om fingrar, dropp av vatten från taket ner på kudden, snö som piskat i ansiktet är en del saker som kommer att dyka upp i minnet. Pingviner var ju ett måste på denna resa och det har det bjudits på i massor.
Tack Dawnbreaker och Lars för en resa ut över det vanliga.
Urban som överlämnar bloggen till Viola.
The time is now 01.00 am. The last crewmembers will be leaving in a few hours. We met Mina2 coming in to harbour, Tim waving a white flag of truce after his attack on our blog page. We are now calling off our practical joke which started with our hijacking of Dolly mark2. Our final points we made with an articel in "På Kryss" the Swedish Cruising Club magazine with 43000 members, and a nice picture in the facebook page of "Cerveza Artesanal Beagle".
The last night we spent with Jonathan and Roxanna in their home. They are helping sailors and more with everything they need. We were served a fantastic dinner by Roxanne and had a very giving evening.
We have had a fantastic couple of months sailing to Antarctica and cruising in Patagonia. The memories are endless.
I thank my crew for a fantastic time together.
Lars
---