More Ua Huka

Dawnbreaker
Lars Alfredson
Thu 10 Jan 2013 20:52
Pos 9:18.2S 139:01.9W
Hiva Oa
Thursday, January 10
Ua Huka is one of the smaller Islands in the Marquesas. Only 580 inhabitants.
We decided to head for the main village Vaipaee in a bay with the same name, Baie de Vaipaee. This means
invisible bay. The bay was narrow so we had to put out a stern anchor. Unfortunately the wind and waves entered the
bay so it was not a comfortable night we spent there.
After searching the village in vain for WiFi we decided the next day to move to the next bay Baie de Hane.
In this bay we were revarded with clear water. The best so far in the Marquesas.
In the village of Hane we even found a WiFi connection at the post office!
Baie de Hane
We decided to hike what the book called "a massive botanical garden". When we got there it turned out to be
abandoned and overgrown, but we managen to get a lift on the long walk back to the boat.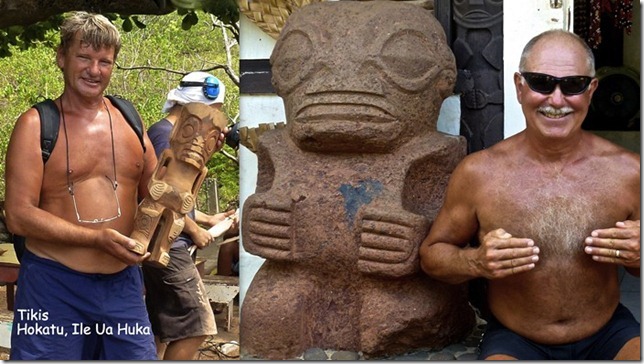 Tiki posing
The next day we hiked to the village of Hokatu. This was a nice little village with lots of wood carvers
working in their gardens, we also visited a wood carving school and a small crafts museum.
Nice flowers in Hokatu village
A visit to the wood carving school.
Back on the boat Fred mixed us nice drinks with Mango, Pomelo and Cashew fruit.
Lars
---