more Savusavu

Dawnbreaker
Lars Alfredson
Thu 22 Aug 2013 07:47
20130818 Sunday
Sunday, a day of rest and so it was. Lars bored with reading takes up his cabin floor and starts taking the cover off the grey water tank for his shower and sink. The result is the most appalling stench that pervades all corners of the yacht as cleaning operations begin.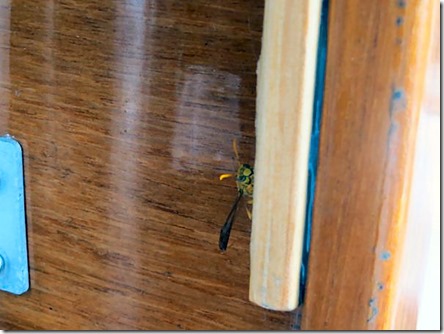 Down the hatch. Beastly visitor.
The problem is identified as an indifferent sump pump that is not clearing it on demand as it should. Pausing for air, the offending tank is emptied using the wet and dry vacuum cleaner and flushed clean, a great relief to one and all as the air slowly clears.
No TLC Lots of TLC.
I had been trying to Blog, but abandoned the task and fled to what air there was, in the cockpit until it cleared. It's a grey day and with intermittent rain showers no-one has much enthusiasm to move and consequently we spend all day aboard.
The highlight of the evening was my barbqed sausages, for which I no doubt should have received the "Cordon Black" award for charcoal. Well how was I to know they would cook that quickly!
A bottle or two of Oz's best repaired the damage and help them go down, so all was not lost.
Bob the Blog
20130819 Monday Shân
One of the reasons we've spent all this time at Savusavu is that we're awaiting the company of Jonathan. He's a young Swedish man who was to join the vessel on 17th August to travel with Lars to Vanuatu, another South Pacific Island about 600 miles from Fiji.
He arrived in Nadi as planned and decided to go surfing rather while waiting travel to get the ferry to meet us. Despite several emails Lars hasn't been able to contact him so if he doesn't appear tomorrow, when he is due to arrive by ferry , we will have to leave whether he joins us or not, and he'll have to catch up with us when we get back to Port Denarau on the 24th.
We spend the overcast, showery day preparing for our departure. Bob's filling up with the yacht with fresh water; I'm off getting alcohol, freshly baked bread, meat and a few essentials, while Lars visits the immigration office to get all the paperwork in order.
Watering up.
Bob who is left in charge of filling the freshwater tanks is intrigued by a local crab fisherman who is launching "boat" a raft, roughly constructed out of bamboo and string! He has to cross the channel which has quite a strong current using just a wooden pole as an oar and in the course of conversation explains his techniques for catching his prey and how the raft is the ideal craft for negotiating the mangroves.
Lars and Bob having completed their tasks put the yacht back on the mooring and having completed the shopping I meet up with them at the Yacht Club.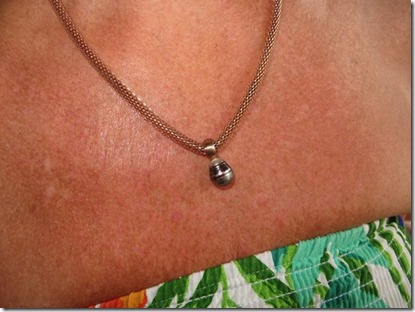 An expensive lunch.
Lion Fish on the dock.
We're having a cool drink before lunch when we spot the crab fisherman returning from his expedition into the mangroves. Bob photographs his progress across the channel then goes off to meet the man and photograph his impressive catch.
The crab man his raft
and his catch
Finishing our drinks we move over road to the "Decked Out" Café for lunch. The boys sensible opt for fish and chips but I go for a local lamb dish – bad move. While we dine we are entertained by a road gang busy filling the numerous potholes in the road in front of us and causing general traffic chaos.
Relaxing at the Yacht Club.
Lunch and floor show.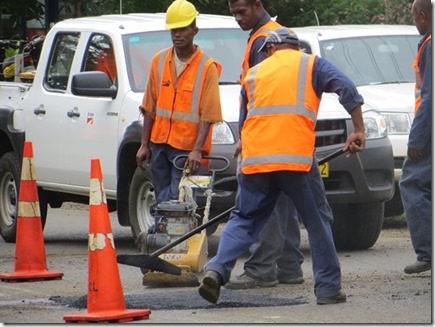 How many men does it take to fill a pot hole. (10)
While the boys are finishing their beers I nip back to the bakery to pick up the bread that having just come out of the oven was to hot to slice. All done at the café, Lars collects his paper work and heads of to immigration once again, while Bob and I do a bit of souvenir shopping before we return to the boat for the "Big Fiji Banana Tasting" session.
Size matters
A BBC radio programmed had declared that the Fijian bananas where superior to those we get in the UK from the Caribbean. After ensuring we had genuine local samples we got stuck in. Guess what, the BBC was right for a change. They are gorgeous, slightly orange in colour with a sweet citrus taste. Yum yum.
The rain sets in with vengeance, so for the first time we had to eat below in the saloon. Bob was pleased to have chicken with sage and onion stuffing; he's been moithering about ever since I got here with my two packets of "Paxo" as instructed!
Stuffing!!
The evening finished off with Mexican train and yes, I won!!
Mrs Blog.
---