Makemo and Fakarava

Dawnbreaker
Lars Alfredson
Fri 30 Nov 2012 02:39
Pos 16:03.57S 145:37.29W
Fakareva
A bit of Swedish and a bit of English mixed with some photos.
"DRIFT" SNORKLING
Passagerna på Makemo & Fakareva, 25-28 november
Korallöarna med sina palmer ser mer eller mindre lika ut nu tycker vi efter att ha besökt ett antal atoller och öar på vägen från Gambier Atollen …. men under ytan ….
Vattnet är inbjudande varmt, ca 30 grader (för varmt tycker Skipper, men vi andra njuter) och läckert färgat i alla möjliga nyanser beroende på djupet
och karaktären på botten t ex korallsand ger en vacker azurblå färg. Ibland är det läckert kristallklart och det har att göra med var man befinner sig,
nära inloppen till atollernas laguner är sikten bäst speciellt när tidvattnet stiger och vattnet från Söderhavet strömmar in.
The reef passages in Makemo & Fakareva, 25-28 November.
We are starting to think that coral atolls with their motus and coco nut trees are starting to look the same now, after visiting a number of them since our first
in Gambier Islands….. BUT UNDER THE SURFACE…..
The water is invitingly warm, approx. 30 C (to warm says the skipper, but we all enjoy it) and the color is in all shades of blue depending on the depth and bottom
A bottom of coral sand gives a beautiful azure blue color. Some times when the tide is rising and fresh water flows in to the lagoon the water becomes crystal clear.
Happy kids at Makemo
Alla ombord engagerar sig intresserat i hög- och lågvatten nu för tiden. En hel vetenskap med månen som huvudingrediens. Två ggr per dygn är det låg- resp högvatten.
Nu har vi lärt oss att planera våra undervattensäventyr.
Undervattensvärlden tröttnar vi aldrig på, oändlig källa för njutning, förvåning och fantastiska många gånger färgsprakande upplevelser.
Bästa sättet att njuta av denna svårbeskrivligt förunderligt vackra och mångfasseterade undervattensvärld är att ta dingyn ut genom "passagen"
till öppna havet och början av ytterrevet och sedan bara flyta med in med strömmen medan koraller och fiskar i alla storlekar och färger passerar
förbi i all oändlighet. Ingen utflykt är den andra lik. Och smaken utvecklas. Plus Lasse blir allt bättre med hanteringen av undervattenskameran
(för det mesta, igår lyckades han sätta in den felvänd, bara det var en bedrift, samtidigt som vi - Lasse & Fred - hade gjort oss besväret och satt
på oss dykgrejorna för ett besök på den berömda hajväggen i Fakarava). Ett axplock publiceras här.
All aboard are very in to high and low water now. A science with the moon in the center.
Two times every 24h it is high and low water. We have now learned to plan our under water adventures.
The life under the water we can never grow tired of, it is a constant source of enjoyment, surprice and fantastic colorful experiences.
The best way to experience this wonderful world under water is to take the dinghy out through the opening in the reef and ride the current in again.
Colorful fishes and corals just pass you by in a never ending stream. No trip is the same, and you see different things each time.
Lars is getting better with the underwater camera (most of the time, yesterday he managed to put it in the housing upside down, not easy!)
That was when Lars and Fred had put on the full scuba gear for a visit to the famous "Wall of Sharks".
En av de absoluta höjdpunkterna så här långt var definitivt igår, Fakarava South Passage. Perfekta förhållanden,
härligt flyt i vattnet och massor av fisk som villiga aktörer.
En av Gretes favoriter, Napoleon och ett praktexemplar (ja han heter så en av havets karaktärer),
ställde välvilligt upp för närgången betraktelse och foto på grunt vatten. Sedan var det dags för en havssköldpadda på nära håll
(hon fastnade också på bild). Pricken över i var Manta Ray. En av havets sällsynta giganter kom simmande i sakta mak direkt emot oss.
Snacka om lycklig upphetsning (pang den satt också mitt i fotosökaren).
One of the highlights this far was yesterday at Fakaravas South Pass. Perfect conditions and lots of willing actors.
One of Gretes favorites, Napoleon and a big one, posed for a close up.
Then we met a turtle, and the highlight was when a big Manta Ray came swimming towards us.
Sting Ray?
Napoleon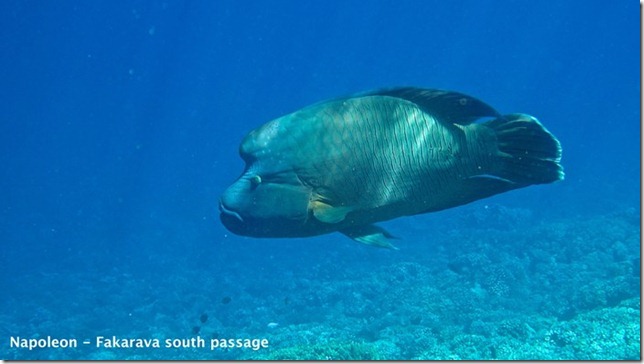 You look tasty.
Nyfiken revhaj (1 - 2,5 m stora) av olika slag, svart- och vitfenad plus grå, har blivit vardagsmat. Alltid några kryssande
eller cirklande nyfiket omkring oss och båten.
Gårdagens ankring var dock speciell med minst 20 hajar förväntansfullt väntande runt båten.
Vilket slagsmål det blev när vi skickade i lite fiskrester. Vattnet kokade.
Är det oss de väntar på?
Vi hade läst om och hört talas om hajupplevelse av det ovanliga slaget. Visst hade vi sett rätt mycket haj när vi snorklande drev genom inloppet
men vi var inte så imponerade. Lasse föreslår ett dyk. Fred nappar direkt. Plums i från dingyn direkt i kanalen, ner på botten ca 15 m.
Vi glider sakta med strömmen, det slutar sakta neråt …. helt plötsligt är det haj överallt. Under, över, bredvid, på botten, i hålor och skrevor …
Många står lojt stilla i strömmen och kikar lite förstrött på oss när vi glider förbi på mycket nära håll. Slutade räkna vid 100.
Svårslagen upplevelse som aldrig kommer att glömmas.
Grete, Fred & Lasse
Nosy Reef Sharks (1-2.5m, black tipped, white tipped and grey) has become commonplace. There is always a few cruising around us and the boat.
Yesterday when we anchored we must have had 20 circling the boat. What a fight when we threw in some bits of fish. The water was boiling. Are they waiting for us?
We have read and heard about unusual Shark experiences. We saw a lot when snorkeling through the passes, but you get used.
Lars suggests a Scuba dive. Fred jumps at the chance.
In from the Dinghy, down to the bottom at 15-25 m. We slowly float with the current and suddenly there is Sharks everywhere.
Over, under, on both sides. We slowly glide past, very close. We stopped counting at a hundred. A fantastic experience that will never be forgotten.
Grete, Fred, Lars, Mike, Steve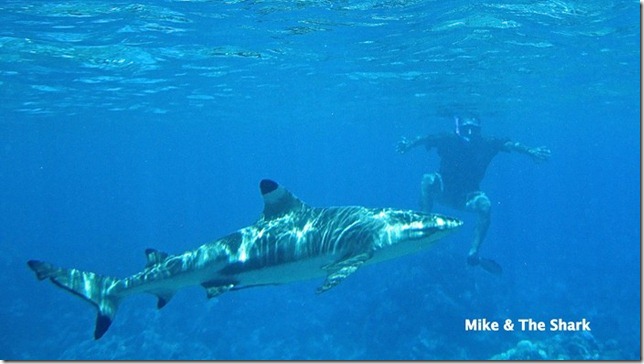 Manta Ray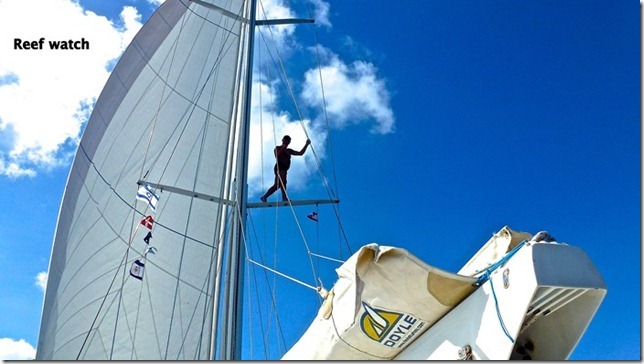 ---