Success

Dawnbreaker
Lars Alfredson
Wed 26 Oct 2011 13:50
25102011 Mar del Plata - Success
The morning sees me catching up on the Blog and resizing and selecting pictures for the same. Lars has the main halyard winch stripped down trying to sort out the problem of it not locking and running in reverse when stopped.
It looks like one set of pawls are sticking but they are of course in-accessible without removing the winch from the deck.
This can't be done as the bolts are seized solid and the alternate access means taking down the headlining inside the saloon,
a feat of major engineering and is probably the reason they haven't been serviced before.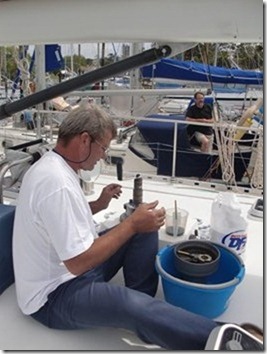 Peter has been despatched for the second day in a row to try and mail the faulty AIS unit for repair.
Yesterday he had to re-wrap it in the regulation brown paper and tape and just as he thought he'd cracked it after filling in numerous form their was the problem of no address.
This solved (The Yacht Club became his residence) they the decided they could only deal with up to a 2kg parcel and as it weighed 2.5kg he would have to go to main office downtown.
Lunch time and the club is closed so we de-camp to the next door club where despite language difficulties Lars gets his Omelette
and I get the fish special though there is a major setback in the Wi-Fi stakes as their system is for members only.
It's a grey drizzly day and very cold as we sit on the veranda outside "Our" club and tackle the E-mails and updating the Blog while waiting for the Engineer with our bits.
Mechanic at work
Its 2:30 when he appears and we meet up on board. What a star! Within the hour the Generator is running like a sewing machine much to
the delight of all. Now it starts first turn and runs very smoothly. He is duly paid (And very reasonable) and he leaves us with a list of bits to be replaced in due course.
And a bit for the dog Repairing Thomas ashtray
Peter returns to battle another day, Lars rebuilds the winch, Thomas is cooking up a storm and I have updated the Blog.
As we have decided to try and set out tomorrow a fit of tidying up fever grips the crew. Hovering and polishing commences and Peter gets the short straw and is on toilet cleaning duties.
Peter at work Thomas trying to fly
We dine on the fruits of Thomas's labour, chicken in white wine sauce and rice though there is a little mishap when he nips outside for a cigarette and the rice decides to catch fire!!
Bob the Blog
---