Picnic Bay Party Report

Dawnbreaker
Lars Alfredson
Tue 3 Mar 2015 04:06
All set to go onshore and Thomas does a "tonton" while boarding the dinghy on choppy seas. Barely caught on camera by Ivan. We made it to the pier and while the crew went for a hike after some cold beer in Nelly Bay, tonton stayed at a closer pub to dry from his adventures.
A tonton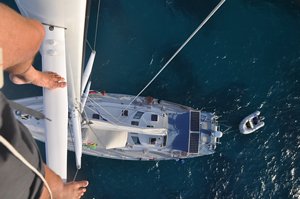 Greeted by some local yachties, a sunshine happy hour invitation was extended to the new friends. After a bus ride back by the crew all were happily installed at DB for a Gin & Tonic afternoon drink. Stephen (british) and his new girlfriend Petra (dutch) rowed over for drinks. They live on their Warram cat and love to hop islands. The night continued on with Ivan's always gourmet salad served with a beautiful cold Arrogant rose wine. The night roll-out with a lot of laughter and adventure stories, well lubricated with a bottle of Sailor Jerry rum and a lot of music, including some house, dance and other electronic stuff so hated by Lars. As still recent lovers, the couple got a bit frisky onboard and Ivan "so sorry" kindly suggested they take it up on their boat … kkkk
Wild party
Having a bit of excess drinking, Stephen made a "tonton" while attempting to board his row boat. Ended up donating his sarong to the sea. It was a wild and fun night and consequences were collected next day in form of massive hangovers.
Ohhhh … I am so tired today!
---