Farewell to Thomas

Dawnbreaker
Lars Alfredson
Fri 2 Aug 2013 06:10
Pos 17:46.36S 177:22.95E
20130728 Sunday - Shân
I believe Thomas has written the report on the chivalrous rescue of the French boarding ladder and dinghy but probably didn't mention the lovely Sophie who is a photographer for French TV. Her dad Jacques, is a retired TV producer who is doing some free lance work and writing a book. WE really do meet very interesting people on our trips.
So after the rescue it's anchors up, sorry "we weigh anchor" and set our course for Denarau. Thomas is busy packing. One stop on the way for lunch and a last quick snorkel and were off again.
Rare sighting. Lunch.
Once we arrive at our berth Happy Hour is brought forward for the lowering of the Brazilian flag and we start giving Thomas a very alcoholic farewell, starting with a very cut throat game of Mexican Train. The only game so far this trip.
Lowering the flag. Looks a bit empty.
After a meal at Cardo's we meet up with Arthur, Amy, kids and their friends before weaving our way back to the boat. I collapse into my bunk and am asleep in seconds. Waking at oneish I find Lars and Thomas still up and working on the computers – mad or what.
The next time I wake it's to the sound of an alarm. It's time to wave our final farewell to Thomas who has booked his taxi for 5.30am. He will be sorely missed not only for his catering skills but for his sense of fun and enthusiasm for everything we see and do. Miss you Ton Ton.
20130729 Monday – Shân
Whilst we're on a berth we can get down to some necessary maintenance and cleaning duties. All beds are striped and two large bags are filled with dirty washing and lugged up to the laundry facility at the Port Office. Very handy, especially as I meet up with Amy who shows me the ropes. Lars also helps out with the first load before he hauls the dinghy out of the water. He and Bob start scrubbing the hull whilst I spring clean the galley.
Washday
After a busy day I cook my first meal on board. I'm pleased to say that it turned out quite nice even though it was made up of leftovers. Having completed an inventory of the freezer and the wine cellar (Bath) we now have to get to grips with writing a shopping list that will keep us fed for at least three weeks – what a challenge!
I decide to sleep on it and leave the boys with their night caps and trundle off to my bunk.
20130730 Tuesday – Shân
Oh no, the big shop day! We decide to take the bus to Nadi which cost us less than 50 pence each and took us on a grand tour of the beautifully manicured hotels, resorts and golf courses that surround the Port. More Los Angeles than Fiji I think.
Big neighbours. This bit cost more than a small car.
As the bus rattles over a raised, wooden section of a bridge, most weird, we start to see Fiji Fiji. Mangrove swamps, small bungalows with locals going about their daily duties. I'm fascinated by the contrasts and promise myself to do the trip again when we return to Denarau but with my camera next time.
The shopping is another new experience. We first check out the fruit and veg market which is huge one part of which is dedicated to the sale of "waka" This is the root they pound into a powder to make the very muddy looking solution called Kava. The guide book tells me that it has mild sedative and anaesthetic properties. Hmmm, can't wait to taste that!!
We decide to leave the fruit and veg till last so cross the road to the main shopping area of the town/city, not sure. Three large supermarkets sit next to each other, all selling everything you could possibly think of and run by the ever increasing Indian population of Fiji. The procedure takes hours, especially as Bob and Lars negotiate over vast quantities of alcohol.
Finally it's time to visit the fruit and veg market but Bob decides to go to the suppliers of all things electrical to look for a new hair and beard razor. Lars and I explore the market and return to the first supermarket who are kindly boxing up our purchases and looking after them for us. No sign of Bob.
I loiter outside the supermarket whilst Lars goes searching, still no sign. I decide to sit on three cases of beer whilst Lars searches the market for Bob – impossible task, anyway he wasn't there. Lars and I are getting cross and worried, where is he? Ah, at long last he wonders along the busy street smiling and bald!
The razory thing was too expensive so went for a haircut instead. Great think I, now we can get back to Denarau – no chance. Once more I'm abandoned to sit on the beer whilst they go off in search of a new toaster and a taxi. I'm beginning to feel very conspicuous as well as hot and tired. Taxi eventually arrives, all our goodies are loaded into the back and I collapse gratefully into the back, don't relax Shân, we're now off to the butcher!
What a day, unpacking and storing all the supplies takes at least two hours then a well earned beer and lunch is served. Cleaning and repairs to the dinghy are resumed until Happy Hours when Toby comes to see Lars, he was hoping he could join Dawnbreaker and hitch a ride to New Zealand – "I don't think so" says Lars, "Shares costs only here".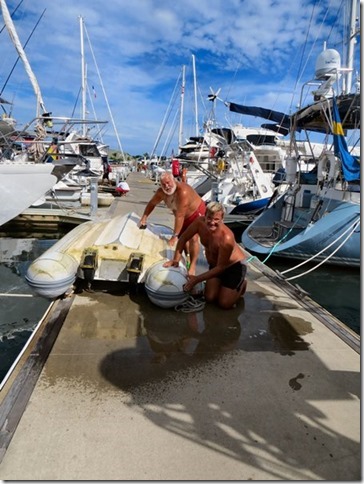 Dinghy cleaning and repairs.
Shower, change and an Italian meal out at the Amafi restaurant. Our last night in Denarau for three weeks or so.
Good night all.
Mrs Blog
---