A perspective from down under

Dawnbreaker
Lars Alfredson
Mon 17 Feb 2020 13:35

7th Feb 2020.
I arrived at the marina in the evening after an Air Asia flight from Bangkok and a taxi ride from the airport. Took a transport (truck) to the end of the pier where Lars came out to meet me with the dingy. Ten minutes later we were in the cock-pit of the anchored Dawnbreaker drinking Gin & Tonics with disco light coasters – very impressive.
I met the guys, in this case two Danes called Ivan (the man responsible for the coasters) and Pelle. Three of us drank a couple of G&Ts with some salami and cheese I had bought with me from Amsterdam. Pelle is a non-drinker. It sounds like a disease but I heard it's actually not dangerous, anyway Pelle looks fine and it's, apparently, also not contagious, so it seemed there was no immediate danger.
We had an excellent Thai dinner on shore with a couple of beers then made our way back to the marina. Normally you would think that drunken men and a bobbing dingy might cause problems, but not in this case. It has not been scientifically proven but many people can see the logic in two wayward, randomly moving objects cancelling each other out, WRMO = WRMO, basic maths. Anyway, we can leave that for the scientists and mathematicians. We now know there is some truth in it and it was backed up with data when the only sober person - Pelle - plunged, perfectly strait into the dingy and the thing moved. Poor old Pelle's feet went from under him and he had only two choices left, it was either going to be his face or his handthat hit the deck of the dingy. Wisely he chose the latter.
We are still not sure if something is broken or it's only sprained. He's a brave man and has temporarily lost the use of his left-hand. Dingy 1, sober people 0.
We rode the dingy back to the boat for a few more whiskeys as Pelle looked on, I'm sure wishing just a little bit be could join us.
Eventually it was time to sleep. The others went way too early for someone who was still on Euro-time, so I rambled up to the bow of the boat and sat there with Sony Walkman headphones and Bruce Springsteen for company for several more hours. I remember something about a cam chat with some poor female victim on the other side of the world (I'm so sorry Julia) and at one stage lowering the phone through the hatch and into Lars room. Of course he was naked and …. and … reading a book (of course). That was still early. I remember the scream from my friend on the other side of the world but not much after. A few more Bruce Springseen albums later I went off to bed. It was only 9pm in Amsterdam – 3am local time.
I was first awake the next morning, 6.30am. We had a healthy breakfast of fruit porridge and coffee. Then we took the dingy to the marina office to check out of Thailand. This took some time, way too much time, and made us all anxious to get moving. That might explain the upcoming event that started with Lars launching his 103 kilo self at the bobbing dingy and ended with an extremely long played out balancing act on a dingy that would not stay still. Gravity took over and there was only one way he was heading and that was down. To the right was the inside of the dingy and to the left was the sea. Lars fell into the sea, phone, passports and all. We managed to drag him back into the dingy and luckily the backpack holding everything didn't get too wet. Though it seems, unfortunately, that the phone got enough salt water in it that it started to disobey basic commands. It's now on rest and recovery mode and hopefully it will work normally again, only time will tell.
Lars came out worse. Though it could have been a lot worse. His hand got a bad cut which needed 8 stiches at the local emergency ward. When he fell into the water he put out his hand and it scrapped against a large steal barnacled pontoon that was next to the dingy. We were lucky it was not his head. Dingy 2, sober people 0.
He came back to the boat very happy with his treatment. Ivan, who volunteered to join him, came back even more happy with the friendly Thai nurses.
It was Lars left hand that was cut and now freshly bandaged so now we had two left hands out of action.
That night we motored around to Karon Beach and anchored offshore. We decided to brave the dingy again and head onto the beach for dinner. I was having a no-alcohol day so I was doubly aware of what can happen to people in my position entering dinghys sober but we had no problem at all getting on, possibly because we now see the dingy as enemy number one and are on guard whenever it's near. Ivan took over the engine and I was upfront to jump off first when we reached shore. Lars says jump, I brace myself then launch forward, only to be thrown backwards because of an oncoming wave that hit us at exactly the wrong time. I fall flat on my back on-top of Ivan as the boat fills with sea water. No cuts, no sprains just two-wet men. Dingy 3 – sober men 0.
At least we had a great dinner. Lars goes for a steak, Ivan has the Tom Yum Gung, Pelle has Chicken with Basil and I have 30 mussels. Later we stroll back to the dingy and cautiously make our way back and have an early night.
Now I'm almost up to date. This morning I wake first again, but this time after a heavy 9 hours sleep, make coffee, then am joined by Pelle who also has coffee. It's fruit porridge for breakfast again and after tying up the dingy so it cannot cause any more damage we raise the mainsail the genoa and head out in the direction of the Andaman Islands.
We start well, with decent wind, at 7 knots, with a heading of about 320 degrees. We expect approximately 3 days to reach the main port and capital of the Andamans, Port Blair.
The wind soon dies down and eventually it's back on the engine. That's been the story of the trip from when I first joined Dawnbreaker at Miri in Borneo. Wind has become an occasional welcome addition, but not to depend on.
Pancakes for lunch and I am taking care of dinner tonight. It will be rice and beef mince and vegetables for Pelle as he is not only a non-drinker but also a non-red-meat man – good on you Pelle! Blue Margaritas tonight.
The Blue Margaritas were a visual success. Very impressive looking in tall glasses with cocktail umbrellas. Unfortunately we had no ice though, so they were warm. It's a work in progress.
Last night was our first night sail. The wind is a pretty constant of about ten knots coming from the NNE off our starboard beam and swinging around to full beam-on. We managed speeds of between 5 and 8.5 knots. My watch was very enjoyable. I took over from Pelle and spent a pleasant two hours, from 1pm till 3pm, listening to music on my walking and occasionally adjusting the sails. Lars took over at 3 and I went down, read my kindle for about 20 minutes and then slept till 8am. At some stage in the morning I heard the engine start but it was only to charge up the batteries. The wind was keeping us moving forward.
Today I'm reading up on the Andaman Islands in the Lonely Planet guidebook. It looks wild and if the stories are to be believed there should be great snorkelling and diving. Beware though, there seem to be salt-water crocodiles there.
Somebody shouts from the bow. Dolphins! We all rush up the front and see at least 20 small dolphins of 1 to 1 1/2 meters long swimming in front of the boat. They are Common Dolphins, long nosed with a white underside. Very beautiful looking. That keeps us amused for 30 minutes until the fishing line starts to run out. Then we all rush back to the stern and while Lars and Ivan take turns to reel whatever it is in I get the net and sit on the stern waiting. I'm afraid it could be a dolphin but Lars says not. As its reeled in we see it's a 70cm long tuna fish. By the time it's on the boat it is mercifully, for me, almost dead. Its heavy, maybe it weighs as much as 10 kilos. I just put a knife into its head and then start to gut and fillet it. Something I have not done since I was a kid.
I try to be as careful as possible but as I still manage to cut myself, on the left hand, naturally. The impassive dingy hangs above. Hard to blame the dingy but I will anyway. So it seems it's going to be fish for the next few days.
We come into Port Blair towards evening on the 11thFeb. All in all 420 nautical miles in 60 hours at an average speed of 7.4 knots. Virtually the whole way we sailed at 320 degrees with wind coming steadily off the starboard side from the NNE. The only time we needed to turn the engine on was to recharge the battery. Not so comfortable for me as I sleep in the starboard stern bunk which is next to the engine room so it can get a bit warm.
We meet a couple of naval vessels on the way into the harbour at Port Blair, then anchor and then spend the next few hours meeting our local agent and having inspections from the harbour master and immigration. It seems customs are too busy with other boats to bother us so they clear us without boarding the boat, all it takes is one bottle of alcohol.
Over the next two days we visit our agent, go through an itinerary, spend half a day at the internet company getting three sim cards, a hell that was ongoing and only came to a conclusion when a lovely young Indian girl helped us. We needed a local person to guarantee. It has taken more than 24 hours for the sim to be activated and it's so bad that it's – so far – hardly worth having at all.
We are sad to say Pelle has left us. He was having some medical problems and decided it would be best for him to return home to Denmark. It's very sad as we were all getting along very well. He had also spent about 10 days in Phuket with Lars fixing the boat preparing for the trip. He put a lot of effort in for less than three days sailing. His flight was around 11am this morning but at 9.30 he still had to see Indian customs. Hopefully he gets away and again, hopefully, can join us again at some stage.
This morning we cleared out at Port Blair and motored directly into a slight breeze for four hours before reaching Neil Island. We stopped at the secluded southern side and went for a short snorkel just to get wet. It was reasonable clear – 15 meters – but no much to see. There are supposed to be dugongs here abouts and also salt-water crocodiles but we saw neither. Tomorrow we head for the next island called Havelock. It's the most famous island here. Ten years ago there was an American killed by a crocodile there. The last attack on a tourist it seems. Let's hope it stays that way.
We have just spent two full days motoring around Havelock Island. First anchoring in the south, then moving onto a secluded beach on the south-west where I we went for walk and I tried out my new drone. It went ok for 10 seconds then flew out to sea and landed and went under red and green lights flashing impressively. I ran into the water and grabbed it and. Strangly enough, it actually still works, though I don't think I'll try to fly it again near salt water. We then motored onto the famous Radhanagar Beach for the night. It was very busy with local tourists when we went ashore and had dinner (Puriand curry) and as we were leaving we were stopped by 3 officials. They escorted us back up to the beach to meet their boss who wanted to see out landing papers. Of course there are no landing papers. We figured it was just Indian beaurocrasy and he was trying to show off to his subordinates and that seemed to be proved when in the morning Ivan and I returned to the beach and there were new guys there who knew nothing about it. Very veryimportant not.
That morning we motored further north to Elephant Beach. It was crowded with motor-boats, jet-skis and many local tourists again. We found a quieter place and while the others did some snorkelling. As Lard has two full sets of gear onboard I went for a 40 minute dive. It was shallow, maximum depth only 12 meters and I was mostly at about 5 meters. The coral has virtually been destroyed from bleaching though there were some nice fish around. Mostly small. I made some nice short films with my generic GoPro but as it was a cheapy the water-proof case filled with salt-water and it's not as resilient as the drone was. So that lasted two times and it now most likely dead.
We have not found either the beaches or the sea-life as impressive as it's been written up. The beaches have white sand and the water is relatively clear bit it's nothing to compare with Thailand or Philippines. Still, it's quite pretty. The good coral/diving is supposed to be at 20 meter depths though.
That night, the 16th Feb, we anchored off the town in the the north of the island, again going ashore for dinner. After another half a bottle of wine we had an early night. I was awake at 4.30 and again Ivan made breakfast of fruit porrage, toast, coffee and juice. He is spoiling us. I think it's my turn to take care of dinner again.
Jeremy onboard Dawnbreaker S/Y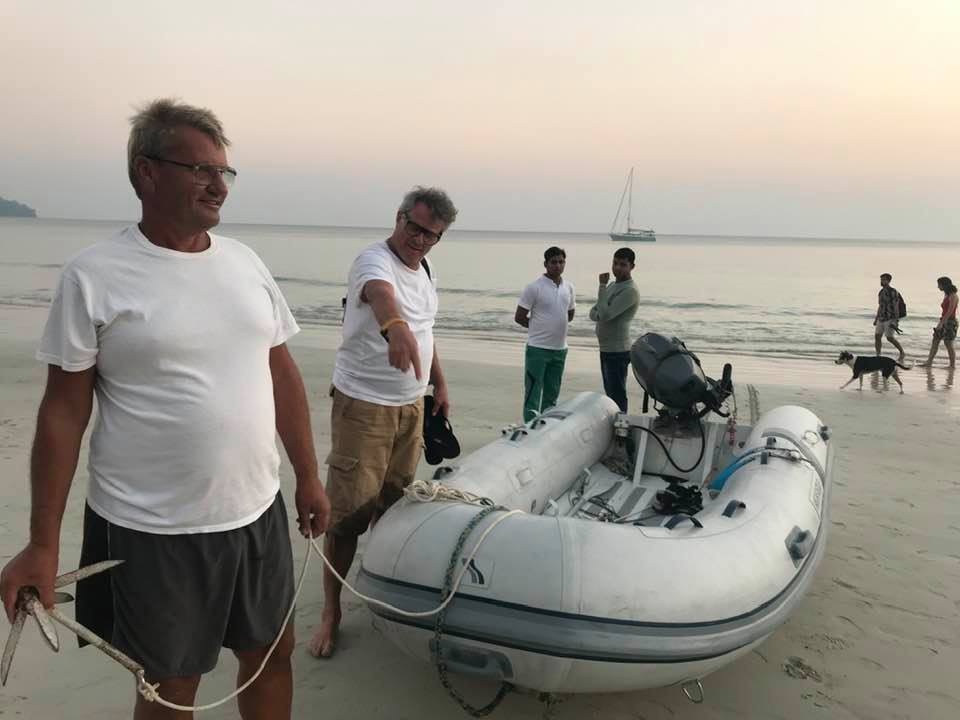 ---