Nuku Hiva

Dawnbreaker
Lars Alfredson
Sun 6 Jan 2013 19:43
Pos 08:49.49S 140:04.92W
HATIHEU, NUKU HIVA, MARQUESAS 5 januari 2013.
Ja nu är vi på ön Nuku Hiva. I Taiohae som är huvudbyn, med ca 2000 inv, i Marquesas firade vi nyår på
"Nuku Hiva Keikahanui Pearl Lodge" (vilket namn!!!) tillsammans med en massa lokala kändisar och lite
udda glada typer (chicka jättar i kortkort, polynesiska pojkflickor). Vi var lite brydda mht nyårsstassen,
finkläder har vi ju inga, men det är polynesiskt lättklätt som gäller som tur är. Så vi vädrade "fin"-kortbyxorna
och Gretes finaste North Face kjol.
We are now on Nuku Hiva. The biggest island in the Marquesas. In Taiohae, the main village with approx.
2000 inhabitants, we celebrated the New Year on "Nuku Hiva Keikanu Pearl Lodge" (long name). We toasted in
the New Year together with the local celebrities and some other funny people (Polynesian she/boys dressed in mini skirts).
We were a bit concerned about the dress code as we don't have any fancy clothes, no problem there. We dressed in our "nice" shorts
and Grete wore her best "North Face" skirt.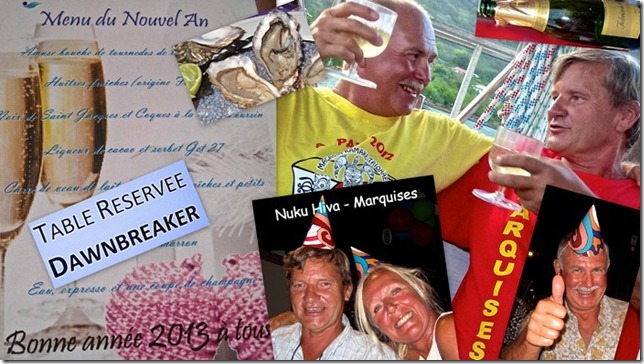 Vi har besökt att några riktigt bildsköna vikar nu. I Hakatea besökte vi Hakaui
och vandrade till dalens slut och Vaipovattenfallet (snustorrt). Hakaui nu en liten by i en blommande bördig dal
fylld med frukt och blommor men en gång en blomstrande stad med 20.000 invånare (det var innan den vite mannen kom).
Vi köpte en 25 kg:s bananklase (minst 100 bananer), mango, papaya, stora söta grapefrukter, ananas och plockade limefrukter.
Fruktkalaset kostade ca 100 kr. Vilken fest! Mumsigt med exotisk fruktsallad till frukost.
På kvällen var det langusterjakt som gällde. Snorkling i mörkret, och det fanns
faktiskt languster. Plockade upp en (som återfick friheten). Men de var ack så små,tyvärr.
We have visited several beautiful bays now. In Hakatea bay we visited Hakaui village and hiked up the valley to Vaipo waterfalls (350m high).
Unfortunately there was only a few drops coming down but the nice sweet water pool gave us a welcome cool off.
Hakaui once the biggest village in Marquesas, now only a small place filled with flower an fruit plantations.
We bought a whole stock of bananas (more than 100), mangos, papayas, pomelos (grapefruit) and pinapple.
All this for less than 10£. Nice with exotic fruit sallad for breakfast.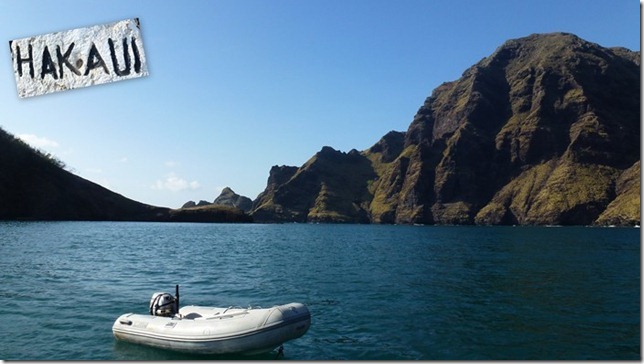 "Manta Bay" döpte vi viken med sex leklustna mantor som kryssade fram och tillbaka nära båten de två dagarna vi var där.
Att dessa jätterockor leker och gör vattenkonster, typ simma upp och ner och tom med hoppa helt ur vattnet, var
nått helt nytt för oss.
"Manta Bay" we named the bay (Baie de Controleur) where we were surronded by 6 playful Manta Rays that were feeding
around us during the two day's we were there. We have never before vitnessed these big Rays playing, swimming in loops and even
jump out of the water.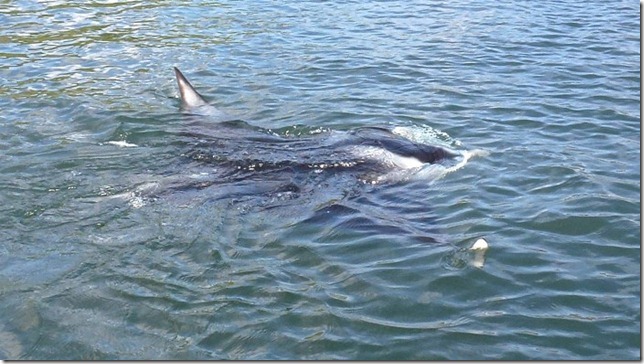 Igår ankrade vi i Anaho Bay ("probably one of the most beautiful bays in the Marquesas). Vi hade en hel hästskoformad bukt för oss själva.
Strandhugg och en fuktig vandring genom "regnskogen" till krönet på passet. Vilken vy!
Yesterday we anchored in Anaho Bay ("Probably one of the most beautiful bays in the Marquesas"). We had a whole horseshoe shaped
bight to our selves. Going ashore we walked up through the "rain forest" to the pass, what a view
Idag är vi ankrade i Hatiheu och siktet är inställt på att njuta "Marquesan specialities" hos Chez Yvonne men vi har inte
funderat ut hur vi ska landa, än. Brytande stora vågor slår emot rullstensstranden och kajen är oskyddad med ett svall och gung på
en meters skillnad, hum!? Med extralinor till fasta bojar och med alla viktiga grejor
i vattentät påse lyckas vi lite våta ta oss iland på den slippriga kajen.
Blir bara en natt här. Och restaurangen var stängd. Har det hänt oss förut??
Today we are anchored in Hatiheu bay. We are set for some "Marquesan specialities" in Chez Yvonne. That is
supposed to be one of the better restaurants in Nuku Hiva. We just have to work out how to get ashore.
Big rollers crash into the stony beach and the little landing dock, covering it in water. With the help of
a long line tied to a mooring boy and all our gear in watertight bags we manage to get ashore just a little wet.
We will only stay here for on night. And the resaurant was closed. Not the first time that happens!!
Marquesas är naturskönt och vackert men byarna är primitiva och har inte mycket att erbjuda, tyvärr.
Tur båten är välladdad. Andra segelbåtar lyser med sin frånvaro,som vanligt. Inte mycket social kontakt.
Polynesierna, marquesarna, är dock mycket hjälpsamma och gästvänliga, problemet är att de flesta bara
snackar franska, och det gör ju inte vi.
Marquesas is picturesque and beautiful but the villages are primitive and don't have much to offer.
Luckily the boat is well stocked. We don't see any other yachts as usual. The Marquesan people are very
friendly and helpful, the only problem being the language. We don't speek much French.
Nu ska vi ta en GT snart, sedan blir det kyckling med curry och banan. Efterrätt, flamberade bananer
(vi har massor av mogna bananer att frossa på).
Imorgon lämnar vi Nuku Hiva och hissar seglen för att i god bidevind ta oss de 30 sjömilen till nästa vulkanö, Ua Huka.
Now it is time for a GT and thereafter chicken with curry and bananas. Dessert, banana flambe'. We have lots
of bananas to eat.
Tomorrow we will leave Nuku Hiva and fight our way 30 NM east (against the wind) to Ua Huka.
Greetings from Lars, Fred and Grete.
---