Port Stanley the Falkland Islands

Dawnbreaker
Lars Alfredson
Tue 22 Nov 2011 01:50
Pos 51:41.5S 57:51.4W
19112011 Port Stanley the Falklands
Having battled our way around the end of the island we turn into the in 30kts on the nose. Dropping sails we motor in through the outer straights and then into Stanley sound.
The town is very colourful and reminiscent of some of the Caribean Islands with their multi coloured tin profile roofs and paint jobs to their houses.
Feet on the Jetty at last Customs and Immigration
We talk to the Harbour radio who contact the Customs and also very helpfully check the jetty is clear for us tie up there.
We check in with Simon Goodwin the customs officer who is with us in minutes of tying up. Amazingly after our Argentinian experiences were all done and dusted with in 15 minutes.
After answering our barrage of the usual question, where's the nearest Pub etc he very kindly takes Peter to check out the Swimming Pool and is pointed to the hostelries on the way.
The Globe in sight The Globe inside
The good news is the first pub the Globe is just up the road and the Visitor Centre is at the end of the Jetty. A run ashore via the centre then the Pub,
more of bar in reallity but quite interesting with relics of the invasion of 1982 as well as flags various include a welsh one on the ceiling.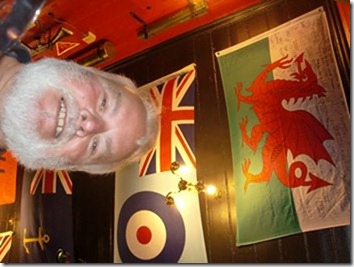 War souveniers Twisted Bob
No draught beer to be had though, apparently it's the loss of barrel that worries the suppliers, so its cans and pint mugs only, but they do have real ale in bottles,
Spitfire and Bishops Finger etc. Despite advertising "the best fish and chips" there are non to be had and we end up in Michelle's Café for fish curry, chips and wine.
Onward to Victory, another much more pubby pub where we are advised that after the Pubs close at 11 everybody goes to the
"Trough" where they have live music and you take you own beer. So at the appointed time we get a taxi head for it.
It would appear that most of the islands population of a certain age were their but it was a challenge to the stamina of some of the crew.
There was the mandatory punch up outside (How British) witness by Thomas our resident who please at the athenticity of the evening.
A taxi home and a nightcap and so to bed.
Bob the Blog
---