Mana Island

Dawnbreaker
Lars Alfredson
Sat 3 Aug 2013 08:34
Pos 17:40.64S 177:06.45E
20130731 Wednesday
The cockpit's had a scrub and were all watered up when Lars returns from the marina office having settled our account. It's a glorious sunny day as we motor out from our berth enroute for the island of Mana north west of Nadi in the Mamanuca Group.
Desert Island with wreck
On our way we pass by the tiny island of Sand Key where we had thought to snorkel and lunch but there's not much of is above water and its difficult to anchor because of the surrounding reef. We decide to come back in a few hundred years or more when it's grown up into and island proper.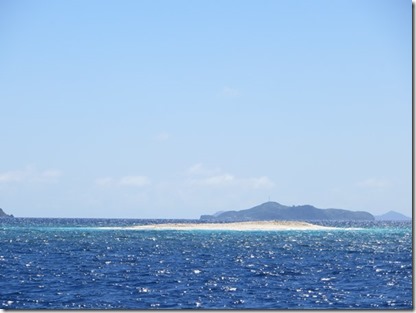 Sand Key
Altering course we point to Mana Island. For once the entrance to the Lagoon is well marked though some bits a bit better than other with half sunken buoys and bent stakes. We have another bit of luck when an old familiar landing craft, "The Spirit of Denarau, last seen piling the new pontoons there, precedes us into the narrow channel.
Consentration on navigation mixed message
Follow my leader No help at all.
We watch his antics weaving in and out of the marks and with one eye on the reefs ourselves follow him in. Once inside there is a large sheltered lagoon with few hazards. The long beach is the home to three resorts of differing prices ranges and at the "Back Packer" end a long building proclaims "Dive Shop" and Cold Beer"
Bent mast
We anchor just off the channel which is very busy with Ferries, Supply craft and visiting yachts coming and going added top this are outboards taking people out to the reef, pulling "Bananas" and generally whizzing about at full speed. On the hill above a Cyclone damaged mast has been cleverly "Fixed" by re-gying the head of its bent bit back to the ground!
The snorkelling is pretty good with varying water quality though this is compensated by the enormous amount of fish. Lars finds a large cowrie, the biggest to date and after photographing it's returned to its home. I find a "New" fish, a "Model Toby" or "Canthigaster valentine" to those in the know. The new fish book is coming in useful!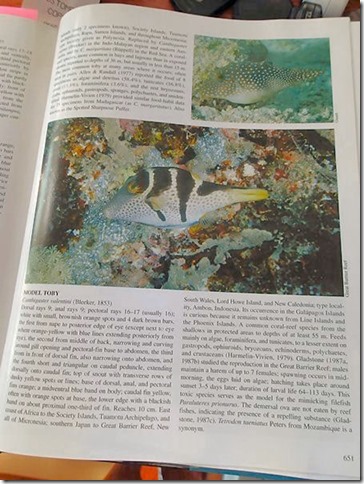 Model Toby!
Cowrie. Coward?
On our return its time to check the salt water intake as both Heads (Toilets) have lost their flushing water Snorkelling down to the keel line, Lars inserts a long screwdriver into the appropriate orifice but no joy.
Back aboard and dismantling the locker floor to access the offending plumbing, we disconnect the hose and try blowing out the blockage. Now both of us are blue in the face, the dinghy pump is attached and while Lars go out to poke about and I hang on tight to the connections. Shan jumps down on the pump until it appear to be clear and Lars appears to report "A big lump of something shot out"
That evening, as we take happy hour watching a lovely sunset, a dinghy draws alongside It's our French friends come to say hello on their way to dine ashore.
Afterwards we dine it's time for "Mexican Train".
We finally call a halt as fatigue and alcohol, a necessary accompaniment, begin to take their toll, leaving Lars in the lead. So what's new?
Bob the Blog.
---