Vitória

Dawnbreaker
Lars Alfredson
Wed 23 Feb 2011 21:19
Pos 20:17.993S 40:17.342W
Hej!
Hello!
Vi närmar oss nu en stad som heter Vitória. Vi startade på kvällen den 22 från Arquipélago dos Abrolhos med vind från norr.
Kan inte vara bättre. Sträckan är 165 nm.
Tillbaka till Arquipélago dos Abrolhos. När högvattnet gjorde att vi kunde komma till sandstranden roppade vi upp " ön ".
Detta måste man göra varje gång. Till och med pojkarna som bor på ön men har ansvar för naturresevatet måste göra detta ?
På stranden mötte marinchefen upp och vi fick en guide tur. TonTon blir vår tolk. De är sex stycken som bor där i tre månader.
De kan ta med fru och barn. Det är nog inte så poppis för det var bar en som hade med sin flickvän.
Hon hade jobbat på att göra en get så tam så den skulle följa henne vart hon gick. Hon har lyckats väl med detta.
Vi fick gå upp i själva fyren. Lycktan är 59 meter över havet och lyser 55 nm. Ni kan tro att varje litet kugghjul var välsmort.
Själva prismahuset flöt på kvicksilver. Vägen tillbaka gick vi bland fåglar med ägg och små nyfödda ungar. Helt orädda.
Dagen därpå fick Lars och TonTon möjlighet att följa med en dykbåt. Det tittade på ett vrak från förstavärldskriget i sitt första dyk.
Vi övriga fick fin snorkling. Ett par små hajar till Lenas glädje.
We are now getting close to a town callled Vitória. We started on the evening of the 22nd from Arquipélago dos Abrolhos with
northerly winds, perfect. The distans is approx. 165NM.
On Abrohlos we could land on the beach at high water after getting permission from the marine base. This has to be done every time.
Even the boys responsible for the nature reserve had to do this every time they landed.
On the beach we were met by the officer in charge which took us on a guided tour. Tonton is our interpreter.
They are 6 personel stationed there for three months at a time. Manning the lighthouse and the weather station.
They are allowed to bring their wifes/girlfriends but it was only one there. She had managed to tame one of the wild goats and it
followed her like a puppy. We were allowed up in the lighthouse. The light is 59m above sea level with a range of 55NM. 150 years
old every little kog was well greased. The whole big prism is floating on mercury. On the way back we walked among big birds with
newborn. They were completely unafraid of us.
The next day Tonton and Lars went diving with a dive boat. An old wreck from the 1st world war in the first dive. the rest of us had
some great snorkeling. Two small sharks were spotted to Lenas joy.
Mot Arquipélago dos Abrolhos Marinens ö
Towards Abrolhos Islands The Navy base
Stranden där vi fick vara, om vi anropade. Mot fyren vi går.
The Beach, allowed after permission Towards the Lighthouse
De två mindre öarna är naturresevatet.
The small Island belongs to the Nature reserv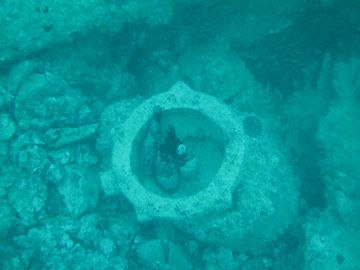 - När ska du bli farfar, Lars ? En toalett från fartyget.
-When will you become granddad, Lars? A toilet from the sunken ship
Vi övriga tittar på fina fiskar i revet. Lättar ankare för färd mot Vitória.
The rest of us looks at nice fish on the reef Unmooring for a nightsail to Vitória
Nu kommer den stora nyheten. När vi närmar oss land startar Lars upp sin telefon. Det piper till och Lars läser.
Lars har nu blivit farfar. 21 feb kl. 1.40. En pojke på lite över 4 kg. Pojkens namn är Cooper Sarin.
Detta firas med kaffe och en liten. Grattis Lars och Caroline. Grattis till de nyblivna föräldrarna.
Vi väntar nu med spänning på en bild på de lyckliga tillsammans med Cooper.
Here is the big news. When we get close to land on the 23rd Lars starts his telephone. A text comes in and Lars reades.
He has become a Granddad on the 21st at 01.40. A boy at approx. 4kgs. The boys name is Cooper Soren..
This is selebrated with coffe and avec. Gratulations to the new parents, Peter and Anna and to Lars and Caroline.
We are looking forward to a picture with the happy parents and Cooper.
Kram till er alla och speciellt till nyblivna föräldrarna och Caroline, ( Lars har fått en ).
Hugs to all of you, the new parents and Caroline, (Lars allready had his).
Urban
---