Porto da Barra beach

Dawnbreaker
Lars Alfredson
Sun 6 Feb 2011 20:31
Saturday we went on a powerboat ride with our friend Luis Valverde for a swim at this urban beach in Salvador.
No sailboats in sight but a great ride along the wealthy coastline.
Luis Nice view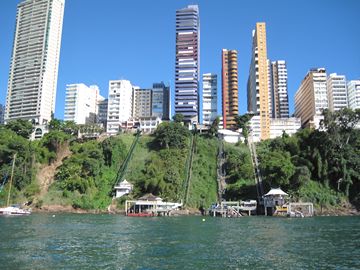 Where the rich lives Note the lift down to the water
Porto da Barra Beach is located in the city of Salvador, Brazil. It is located at the entrance of the
Baía de Todos os Santos, with a small, white colonial fort at one end and a whitewashed church sitting up on a hill at the other.
As the beach is in a bay, the water is calm (given that it is right in the heart of Brazil's third-largest city).
And in a country with over 7,000 km (4,349 mi) of east-facing coastline, the Porto is one of the few facing west,
and sunsets can be seen from there.
Popular Beach Full of people

During the 1960's it was a hangout for Tropicalistas Caetano Veloso
(who sang of the beach in his song "Qual é Baiana?") and Gilberto Gil and their crowd.

^ Porto da Barra Beach - Top 10 beaches of the world - The Guardian (English)
Thomas and Lars


---