Change of plan and off to Malta

Innamorata
Steve & Carol
Wed 15 Jun 2022 13:17
35:54.408N 014:30.050E
We left Sciacca and headed along the coast, the wind didn't arrive as predicted but when we could sail we were heading towards Malta, we had intended not to go there until later in the year but we knew that friends Ray and Sara from UK on holiday until Saturday morning and friend Tony who used to live at the marina is from Malta and living back there now so another reason to change our plans! as a bonus we can get fuel there much cheaper (about €1 less) than in Italy 😁. It looked like we would be able to stay in Malta for a long weekend and had a good forecast to leave again on Tuesday to head back to Sicily (unless it changes). The trip was over 100 miles so it was an overnight sail dodging the many ships heading along the Malta Channel. Before we arrived Steve called Valetta Harbour port control to get permission to enter, they asked what our plans were and if we had booked the fuel 😬 - Steve said no and so they told us to call and arrange it before we could enter, it was pretty easy to arrange, called a marina which has a space for yachts to refuel from a small fuel tanker that goes there and luckily the tanker was there so they said we could go straight to the dock, that arranged Steve called the Port control again and gained permission to enter.
We headed straight for the fuel dock - a pretty horrible concrete dock and filled up with fuel at €1.25/lt it was more expensive than Gibraltar but cheaper than the rest of the EU countries we have been to and we needed quite a lot of fuel from heating ever since we arrived in Gibraltar and the too many hours of motoring we have done since we left there! From the fuel dock we headed to Marsamxett harbour ( the Sliema side the harbour and Manoel Island). We had read and been told that you could pick up vacant private / commercial boat buoys but were unsure which ones as there were lots of boys! luckily we saw someone in their dinghy who came over, John introduced himself and showed us a good pair to pick up then kindly helped pass our lines through the eyes on the bouys for us, we were now secured for and aft to large yellow buoys belonging to a 22m schooner called Amazon which was currently sailing from Corsica to the Balearics so would not come back and surprise us! We spent the rest of the day relaxing and making plans for our short visit, both tired we got an early night.
Innamorata on the moorings.
The following day we set off to meet Tony and his wife Antoinette and went for a coffee, cake and chat to a nice cafe of the harbour front. Its been about 6 1/2 years since I last saw Tony and I haven't seen Antoinette for much longer, we had a lovely time catching up and learning a bit about the history of Malta which we had no idea about, we arranged to meet Tony again on Sunday when we would go and explore a bit with him.
In the afternoon we went to Valetta to meet Ray and Sara, we worked out the quickest way to get there was on a ferry which runs frequently across the harbour and when we got our tickets its turns out that as over 60's😱 the price is only €0.50 each - I was a bit indignant that they didn't even ask for ID to check my age 😳. anyway after a quick ferry ride we landed in Valetta and made our way up the hill and steps towards the old town - what a lovely surprise its beautiful, lots of attractive buildings some old, some rebuilt after the war - We didn't realise that
Malta was one of the most intensively bombed areas during the war and most of the buildings were severely damaged, however most have been repaired to look as they did before they were bombed! Malta was also under siege for 2 years during the war
A picture of bomb damage to part of Valetta - from internet and some picture of the town now!
We met up with Ray and Sara and had a lovely time wandered a little bit then went for drinks before making our way to one of their favourite
restaurants, Cockney's, for a lovely meal - great day catching up with them it's been a while and no doubt it will be a while before we see them again, it was perfect timing to see them before they fly back to the UK in the morning.
Saturday we went for a wander around Sliema, we were surprised to see so many British shops here - M&S, River Island, Holland & Barrett, Matalan, also the supermarkets all stock some UK products so I was ale to stash a few more favourites I was getting short of - it seems there are more British shops in Malta than Gibraltar! Historically Malta was part of the British Empire from 1800, from 1849 had a degree of self legislation and in 1921 it had a fully elected parliament which gave it a degree of self rule with in the British empire until it gained independence in 1964 although British forces didn't leave until 1979, this close association with the UK means almost everyone speaks English which makes life easier and everywhere we found the locals are very friendly and helpful.
On Sunday we met Tony and he drove us to Valetta for a proper walk around, showing us where his family coffee shop used to be as well as enlightening us to some history and local knowledge, we had a lovely lunch followed by a coffee at the cafe he goes to to meet his friends every week, a fantastic day, we can't wait to come back.
Steve andTony outside what was his family coffee shop - opposite the Wembley Store (Steve is from Wembley)
The Royal Opera house / Royal theatre bombed in the war and now open as an open-air theatre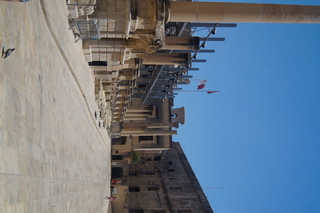 The Saluting battery overlooking Fort St Angelo and the Three Cities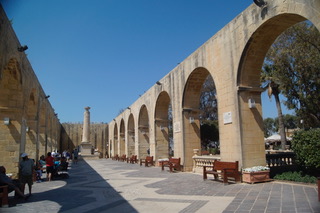 Statue of Queen Victoria outside the old library building
Inside one of the lavish Catholic Churches with amazing ceilings and floors.
Our final day was spent getting the bus to a sail loft to get some battens for our spare mainsail - We were missing the 2 middle ones and the sail is somewhat floppy without them, Steve had contacted someone who had some in stock, after collecting the battens we headed to a lidl nearby to get some shopping before getting the bus back to Sliema, we had a rather long hot wait for the bus which then took us on a different route back which was a bit worrying as we hadn't realised it was a sort of circular route not the reverse of our trip there!
The Weather forecast has been saying Tuesday is the day to leave since before we arrived in Malta and for a change the good forecast hasn't disappeared or turned into headwinds so we got ready to leave in the morning, Adriana with Craig and Zena on are up on gozo and heading back to Sicily at the same time so we should be able to see then on passage and catch up with them again soon.
We have loved Malta with its History, Old town pretty buildings, cheap ferries and buses and friendly kind people and will make it a definite stopping place on our way to Tunisia for the Winter.
---