Kotor

Innamorata
Steve & Carol
Mon 4 Jul 2022 14:20
42:25.394N 018:45.831E
The anchorage was great but we wanted to explore a bit and see some of the towns so we headed into Kotor, when we left the anchorage there was a starfish wrapped around our anchor chain, the bottom is mud so Steve had the hose out washing the chain but the starfish needed some gentle persuasion with a boathook to get it to let go! There wasn't much wind at all so we motored round to Kotor, first we passed Monastery of Notre-Dame De La Misericorde and headed past Tivat, dodged ferries through the channel that leads to the inner bay of Kotor and down to the anchorage in the southeast end near Kotor.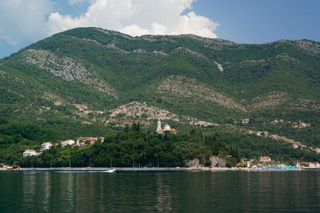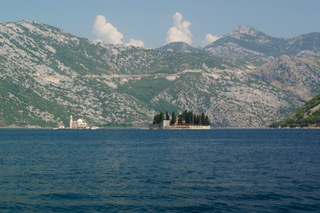 Our fist job was to try to get our gas bottles filled - there is a man who fills bottles here so we went in search of him, found him and he said to return in the morning with our bottles. We also found the local supermarket and went for a wander in the old town which is very nice to walk around. Kotor is a popular cruise ship destination -on a couple of occasions while we were there, there were 3 cruise ships and a tall ship either on the dock or anchored in the bay - that is an awful lot of visitors and the old town seems to be set up to cater for them with its boutiques, jewellery and rug shops etc!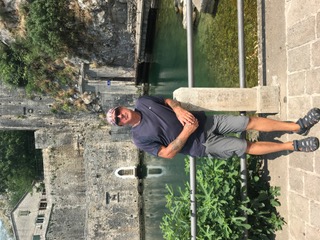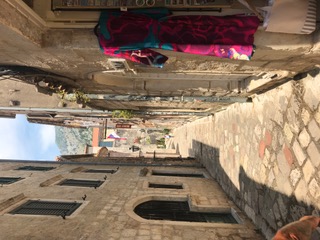 There was another British boat called Kejstral anchored near by and so we invited Dee and Kevin over for drinks and to get some info on the area as they have been here a few days, we had a lovely evening and agreed to go out the following evening and find something to eat with them.
The next day we took our gas bottles early to get them filled - however he did not have the correct adaptor so he could not fill them 🥺 luckily we still have gas for a few weeks so its not a big issue just disappointing as its cheap here - €2/Kg gas so 6kg bottle would cost €12 which is cheap! So we headed back to the boat with them before heading off into Kotor to pay our Tourist tax, Kevin and Dee had told us where to pay it, the information available on line for yachts and when we arrived in Zelenika we were told that we didn't have to pay it there but not when or how we should pay it! Tourist tax is a fee all visitors to Montenegro should pay for each night they are in the country - this is included in a lot of hotel and apartment prices but if you are moving round you need to pay it in each different area or region you stay in! As we are on our boat and moving around we can pay it for the boat which covers everyone sleeping onboard and works out at €10.00 a week rather than €7.00 each for a week so slightly cheaper - makes a change, anyway we paid for a week but still not really sure if we need to pay again when we move to another area of if that we haven't paid for the first 2 days we were anchored will be a problem?
Craig and Zena arrived in the anchorage and joined Kevin, Dee and ourselves for a wander and to get something to eat - we ended up in a burger/gyros/pizza cafe and a lovely cheap meal before heading to the old town to enjoy the ambiance and have a drink.
We had intended to climb the 1350+ steps up to see St Johns Fortress with its great views that you have over the town and harbour however it was far too hot (35-36C feels like 38-40C) to do this during the day, twice we got things ready to leave very early in the morning and start the climb up by 7am but the Bora a northeasterly katabatic wind which occurs in this part of the Adriatic, had other ideas and blew strong and hard at night and into the morning meaning we didn't sleep well and didn't want to leave the boat early in the morning!! With strong winds, rain and potentially thunder and lightening forecast in the next couple of days we decided to give it miss this time around and head off back to the island to shelter from the wind away from the steep slopes of the mountains surrounding Kotor.
---