Vivorillo Cays to Bonacca, Guanaja

Innamorata
Steve & Carol
Tue 9 Apr 2019 00:42
The weather forecast was for a good downwind sail with some rain along the way, so we set off with Genoa and Mizzen, soon we settled down near the front of the pack, we all stayed quite close together

for the

passage although we lost sight of a couple of boat lights in the night, all boats could be seen by at least one

other

at all times, everyone had an uneventful sail to Guanaja.
Lulu and Honey Ryder on passage
We had a stow away for a while - this

gorgeous

young Boobie hitched a ride on our solar panels, he seemed very

comfortable

with the boat movement and I loved the way his little feet curled round to hold on!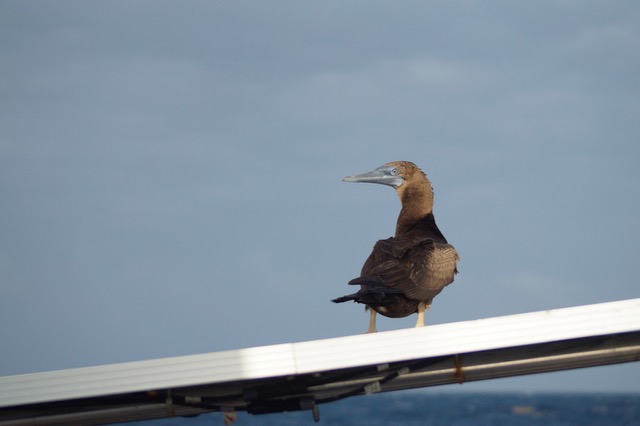 The following morning we spoke to Di on Canapasia on the SSB and when we were closer a little later I spoke to Nev from two Drifters on the VHF - they were anchored near Canapasia - during this conversation I found out that Jeff had just fallen from the mast of Canapasia, Di had called for help on the VHF - Fergus and a Dr - Steve who was a retired Trauma Surgeon had both responded and had gone over to help her out - Nev wasn't sure what he had done but he had hurt his back in the fall and needed to go to hospital to be checked out.
We were all anxious for news on how Jeff was getting on and discovered the he was to be moved (keeping his back still strapped to a paddle board in the
absence
of a spinal board) over to Two Drifters which is a catamaran and they were taking him to Roatan as there isn't a hospital on Guanaja, they were going to be met by an ambulance when they got there and the hospital was expecting them, as we approached Gunaja we passed Two Drifters - now a hospital boat heading off to Roatan with Jeff, Di and Dr Steve onboard,
the
local police had kindly also offered to help out and transport Jeff to Roatan in a local fast boat however it was deemed unsuitable for Jeff as it could damage his back further. Once at Roatan other cruisers helped secure a dock for Two Drifters and helped get Jeff off the boat and into the ambulance.
We headed for the checking in anchorage at Bonacca, anchored, Steve and some of the others went ashore to check in. Bonacca which is

densely

populated is where the majority of Guanaja's inhabitants lived having initially chosen the small island off the main one due to its lack of mosquitos and sand flies etc.
The primary source of income for the islanders is fishing and shrimping. Tourism is confined to a handful of small resorts that cater to divers, snorkelers and adventure travellers.
Approach to Bonacca through a gap in the coral.
Bonacca shrimp and lobster boats - fishing season is closed now so the boats were all in port.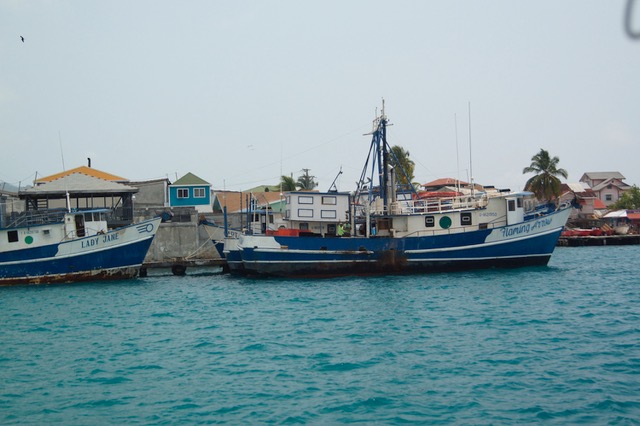 Some of these boats like the one below have 120-150 men on board who take turns to free dive for lobsters from the little boats on the top on the extensive shallows and reefs off the coast of Honduras!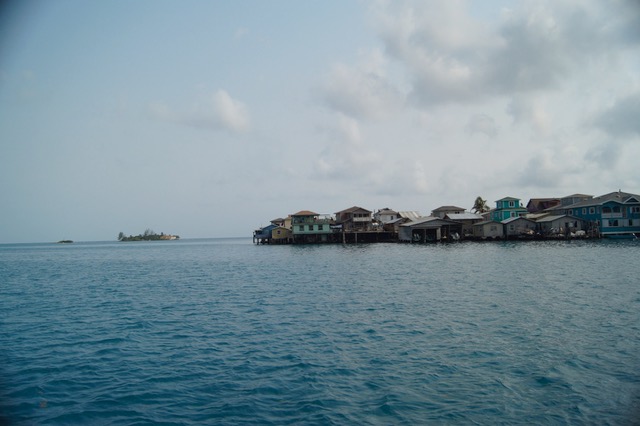 After a couple of hours he returned and we headed off to El Blight and anchored near the now empty Canapasia to keep an eye on her while no one one was

onboard her.
---