Caille Coq, Ile a Vache

Innamorata
Steve & Carol
Wed 13 Feb 2013 01:00
What a different experience from anything we have encountered so far, we arrived at Carnival time when the whole of Haiti has 3 days of no work and party, the teenagers are all home from school on the mainland and so when we arrived there were lots of boat boys who paddled out to the new boats.
Pam and Denis on Glide trying to anchor with at least 7 dugouts in tow,
All the boat boys want a little work or to be island guides though few speak English and our French is decidedly lacking, a couple do have enough to be able to have a good conversation with about their island and life here.
There are 18,000 people on Ile a Vache, which is about 9 miles long and 2 miles wide, the island is very poor and the locals live very simple lives there are no roads and no vehicles on the island and there is no electricity apart from a few solar powered lights. There is no running water some homes seem to collect rain water others use the few wells and water taps we have seen and carry the water home.
Locals sail to and from the mainland with staples for the islanders. These little boats are surprisingly fast and the sails are a mixture of cut up old yacht sails donated over the years by cruisers.
The homes are all neat and tidy, most are made from stone or breezeblock and are painted with tin roofs.
The village clinic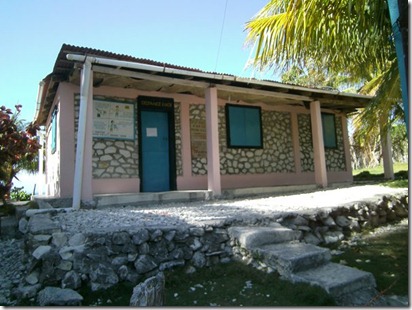 Strangely enough there are a few small hotels on the island, these are powered by generators and have wifi so we are able to get limited internet on board in the anchorage.A nearby hotel complex
Lots of homes have livestock usually tethered nearby, there are sheep, goats, pigs as well as cattle who all seem fairly well fed and looked after.
It's fairly common to see these animals being walked on their tethers to graze for the day and then taken home in the evening, some of the islanders are however scared of being photographed and so its hard to get a picture. The island is very beautiful and lush with vegetation there are abundant coconut, mango, almond and banana trees as well as corn and vegetables being grown.
---