Herceg Novi

Innamorata
Steve & Carol
Mon 11 Jul 2022 15:25
42:27.103N 018:31.673E
Craig and Zena had told us Herceg Novi was a nice town - they had headed there when we went to Tivat so we decided to take a look for ourselves, we managed to sail there and anchored in-between Adriana and another yacht, there was a fair breeze by the time we got there with a fair bit of fetch making it a little bouncy so we stayed on board. The following day Adrianas guests left them and we went shore to explore, there isn't a dinghy dock as such so we went ashore at a beach bar / restaurant and had a drink - they let us leave the dinghy there while we went for a walk about, we walked up quite a few steps through part of the old town to get to Fortress Kanli Kula built in 1539 by the Turks, its been restored in part to be a open air stage.
The views over the bay from the Fortress were worth it but not sure the fort was worth the entry fee?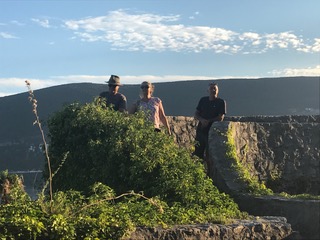 We walked down to the lower fort but didn't bother going in - too tight to pay the entry fee again! before finding something to eat and walking back along the waters edge, all in all a lovely evening. We should have got some fresh fruit and veg at one of the shops we passed as the following day when we went ashore to shop the only place open was a bakery everything else was closed!
---