Buena Vista Cay

Innamorata
Steve & Carol
Sun 22 Mar 2020 21:33
22:14.83N 75:45.18W
We had a great sail the 14 or so miles north to Buena Vista Cay with Jos and Erica, in an ideal world we would have stopped at a couple of the Cays on the way here but with everything going on in the world we want to see a couple of places before heading somewhere where we can get propane and some more supplies. We are without internet until we get to Long Island which will be in about 5-7 days depending on how things go, we do have SSB and so can loosely keep up to date however it will mainly be with US and Bahamian information not from the UK - not looking forward to hearing what has happen in UK in the few days we are without internet etc.
There were 5 other boats anchored when we arrived a couple we have met before and the rest we have seen but not met, Buena Vista is a now uninhabited island, until hurricane Irma a man called Edward lived here, his family was left the island by its previous British owner - Bahamian law is that to keep the island someone has to live on it for at least 6 months a year, so Edward lived there with goats, chicken, pigs and a peacock, Irma put an end to that though! When the authorities evacuated Ragged Island they forgot to evacuate him and he survived by tying himself to a tree on the island while his home was lost. The officials only realised their mistake when his family in Nassau asked why he wasn't with the other evacuated people? He was found a few days later rather battered and bruised and evacuated then, he hasn't been able to re-establish himself on the island, all that is left are the ruins, a few palm trees and a cockerel!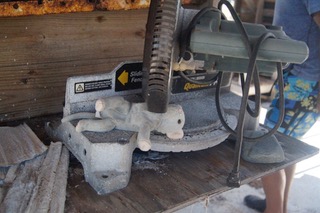 The animal pens where once Edwards livestock lived and the poor lonely cockerel which followed us around, I gave it water but think it really wanted food!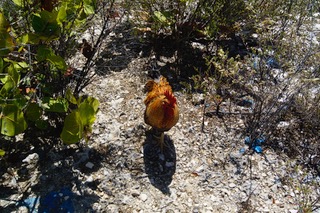 We went for a walk over to the other side of the island - got a lovely view of the boats on the way - the coast was Rocky so no beach combing.
---