Rio Douro, Porto.

Innamorata
Steve & Carol
Fri 3 Sep 2021 13:26
41:08.643N 008.39.201W
We anchored with Falkor and one other boat and spent a nice afternoon / early evening onboard Falkor. We have never anchored here but its a good spot if the weather is settled.
The following day was beautiful as we headed into Porto with Simon and Lucy, a nice walk along the river and met up with Richard, Kerrie and Linus, after a coffee and something to eat we headed for a port lodge for a compulsory tour and tasting session, unlike previous tours we have done in the past with a guide, now its all audio tours so you walk round with a phone like thing listening - all very impersonal and rather hard to remember anything that was said! Afterwards the others all did a port tasting session - Steve had double quantity as he had mine as well 🤣.
On our way back down towards the river afterwards there was a shop doing free samples of white port and tonic - a favourite refreshing not too alcoholic drink Steve discovered last time we were in Portugal, and samples of Pink Port (a new creation) and tonic - which even I liked 😉.
By the time we got back to the river the wind had picked up and there were a few white horses on the surface - the river flow is fairly fast and with the wind the boats sail around and can potentially pull their anchors up so we had some concern for Falkor and Innamorata! Having visited Porto 4 or 5 times before we headed back towards the boats to keep an eye on them and let Simon and Lucy explore the beautiful city further.
Taylors Port Lodge visit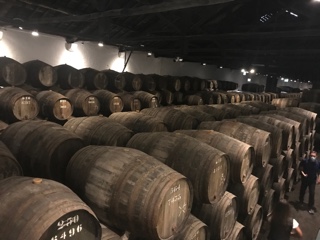 on our way back towards the River we saw this cute street art 3D Rabbit
---