Fornells and Cala De Algaiarens, Menorca

Innamorata
Steve & Carol
Sun 13 Aug 2023 16:10
40:02.49N 004:07.64E

After an early start we had a fantastic sail across to Menorca until we hit the wind shadow and the wind did a swift 180 degree turn and we ended the trip motoring into 20+ knots by the time we got to Fornells.
We headed into the Cala and anchored in Ses Salines not far from where my cousin Patrick and his family were staying along with my sister Jane and her husband Chris who had been invited to stay with Patrick for a few days. Even in this anchorage there was quite a fetch so although sheltered we were bouncing around in the waves and with the docks being on the leeward shore we decided not to venture ashore, Patrick Cristina Jane and Chris came down to one of the docks to wave to us while we had a phone chat to them, we agreed to go ashore in the morning and see them. The following day was flat calm in the morning and we went ashore and visited Patrick and co for a coffee and chat which was lovely - they had plans for the day and so afterwards we headed into Fornells for a walk around and they headed off for the day.
It was a surprisingly pretty walk to the town where we got some fresh bread and pan aux chocolate 😁 before heading back to Innamorata.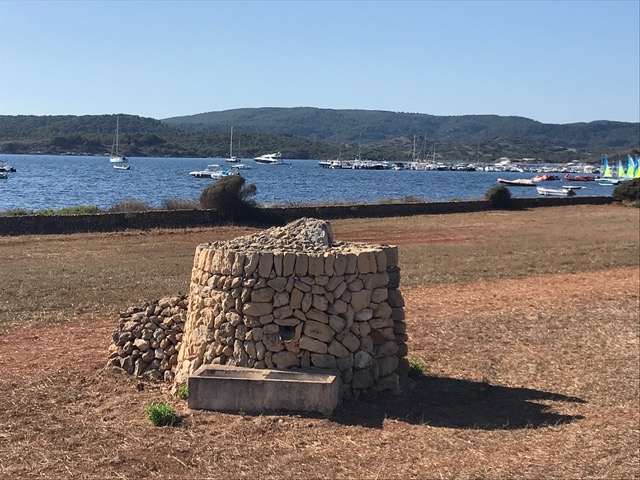 In the early evening we went ashore again and headed to Patricks for a BBQ, we had a lovely evening chatting, eating and generally having a great time (sadly we didn't think to get any photos🙄). The following day Patrick had hired a motor boat for the day so we set of early to head to the pre arranged anchorage at Cala De Algaiarens, with light winds we got the cruising chute and mizzen up and got there by 11.15
Not long after we arrived the others turned up and were soon tied along side us. We soon launched the paddle boards and kayak and Jane Chris and Patrick all had fun on them before we all went for a snorkel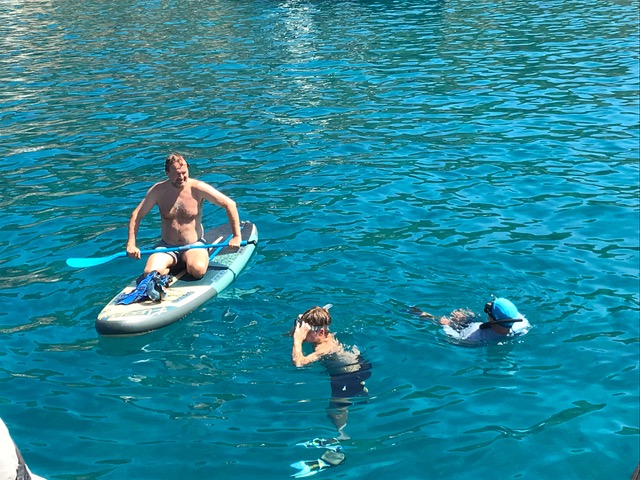 After something to eat and far too soon as the wind picked up from the East it was time for Patrick and co to head back to Fornells, so we said our goodbyes 😢. The weather looks good for us to head back to Mallorca tomorrow so it's been just a flying visit to Menorca for us.
---