Kupari

Innamorata
Steve & Carol
Sat 16 Jul 2022 12:00
42:37
.148N 018:11.607E
Cavtat itself was a nice little town but in the anchorage we had managed to anchor in the path of every trip boat and small ferry who all took pleasure in passing as close to our bow or stern as they could and so we decided to move a couple of miles north and anchored in the small bay of Kupari and got into the water to give the bottom a good clean 🥶- it wasn't UK cold but it was cooler than we like and after about 3/4 hour I had had enough and we got out - its looking good but still a bit more to do!
We didn't actually go ashore but rather ugly abandoned derelict hotels line the bay,
these were once a luxury hotel complex built in the 1960s for the use of
the officers of the Yugoslav People's Army and their families as well as the national officials of Yugoslavia. Apparently the country's leader, Josip Broz Tito, had his private villa here as well.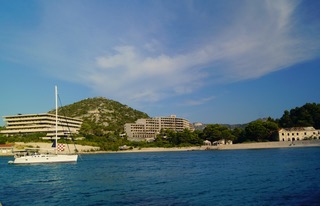 During the Balkan War in the 1990s, the complex of Kupari hotels was badly destroyed – first, it was attacked from the sea and afterward taken over by the Serbian Army. today there are still numerous shell and bullet holes evident everywhere.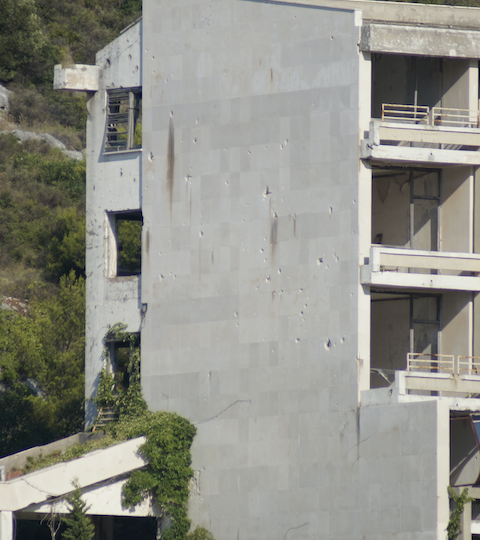 The one building that had some character was
The first hotel built - The Grand was built here 1920, by the entrepreneurs from Czechoslovakia who had the tiling factory nearby
. They've realized how big touristic potential this area has and therefore decided to build the hotel here, now it stands derelict like the other hotels - also a victim of shelling during the war.
Even if the hotels were already in the poor state after the war, the Croatian army still used it. Eventually, at the beginning of the 2000s, the complex was abandoned for good, plundered and numerous items such as furniture were stolen. Today its an alternative tourist attraction and you can freely wander through the buildings.
---