Barbados

Innamorata
Steve & Carol
Thu 19 Jan 2012 01:10
Well we have been here for a couple of weeks now and its time to move on, we have had a great time with the other boats anchored here, last Friday we went out to celebrate Stuart's from Matador birthday at Earls bar, followed by going on to Oistins – a town further south on the island where
everyone goes on a Friday for fish restaurants and music.
We also visited the East coast, the accomodating bus driver stopped to let Steve take a photo!
Bathsheba beach, rather pretty isn't it?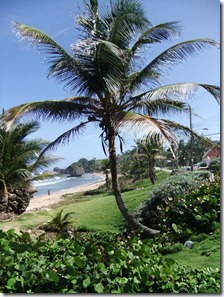 We are heading off to Union Island to book into the Grenadine islands and then on to Tobago Cays , we fancy anchoring behind some coral reefs and doing more snorkelling. Its about 110 mile sail to Union island so we will leave in the afternoon and sail over night to get there in the morning, we are hoping to meet up with Paul and Catherine on Kahia who are heading south and on to the Panama canal they are currently in St Lucia and so our paths should cross which will be great as we haven't seen them since Sines in Portugal.
---