Zadar

Innamorata
Steve & Carol
Mon 12 Sep 2022 12:01
44:02.276N 015:15.53E
Time to head for Zadar a few miles away to check the anchorage out, find the bus stop for the airport in preparation for Hannah leaving tomorrow, when we got there, there were only 3 boats anchored so we found a spot, we were a bit closer to one of the anchored boats that we were happy with but they said they were heading off in a hour so we stayed put and got the dinghy launched and had a snack to eat, when we were ready to head into town 2 of the boats were ready to leave so we waited until they had gone before setting off. We tied the dinghy in-between the local boats and soon found the bus stop, there was an airport shuttle bus there which confirmed it was the right palace and we also found out that you can only buy tickets for cash, cards aren't accepted!
Then it was off to the old town for a wander around the old town, the town has a rich history, there are the remains of a Roman forum
in front of church of st. Donatus, in the heart in Zadar which dates from between 1st century BC, and more recent historic buildings.
Some of the Roman Ruins, the 11th century Benedictine Monastery of St Marija and the Church of St Donatus
Five wells square, the wells were built
in 1574 during the siege of the Ottoman Empire army, there was a large cistern for drinking water below the five decorated wellheads which was filled via a aqueduct with water directly from the Vrana Lake.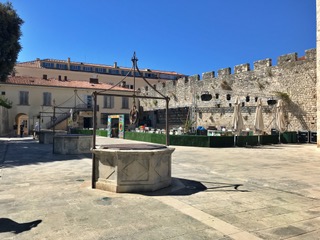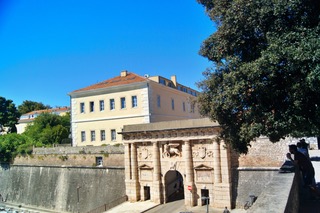 After the walk about we stopped for refreshments before heading back to the boat.
The next day dropped Hannah off near the shuttle's stop while she began her journey home we headed off south again.
---