Isla Mujeres

Innamorata
Steve & Carol
Sun 19 May 2019 16:54
To check into Mexico we went to El Milagro marina and used the agent there - Mexico has a department intensive check in - you need to see Customs, Immigration, Department of agriculture, Department of health and lastly Port office, the agent gets all the departments to come to the marina and then takes all the paperwork to the Port Office, it took us 6 hours waiting for different officials to arrive and we had to return the following day to collect the paperwork, Im not sure it's easier than doing it yourself? Friends Tim and Jules on Mojito were at El Milagro marina while Jules recovered from some hand surgery so we spent some of the time catching up with them and did a quick trip to the supermarket to check it out - not bad at all, we also met some of the other cruisers at the marina and were invited to a BBQ there later that evening as well as another one a few days later.
El Milagro Marina is a very pretty marina / hotel complex.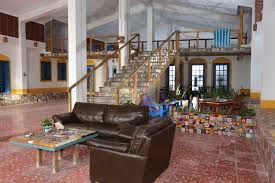 Isla Mujeres is a tourist destination which is popular with both Mexicans and Americans - the North end of the island is very touristy and every shop you go by has someone trying to get you to go in, there are hammocks, blankets and sombreros everywhere, we did get a hammock chair to hang in the rigging. Its a nice island with quite a few friendly iguanas who sunbath on the pavements and walls but for us there didn't seem to be much to do, we went to one of the snorkel sights the trip boats go to and were really disappointed - there were a few wrecks in shallow water with hardly any fish at all - we soon gave up and went back to the boat to give the hull a quick clean!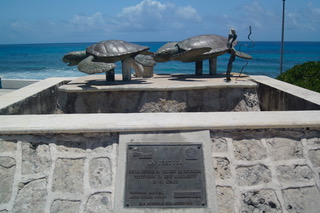 Though we would love to explore the Mayan ruins in Mexico we don't want to go into a marina and are not happy leaving Innamorata at anchor so it will have to wait for another time! While we were waiting for a weather opportunity to head to Florida, another boat we know - Endless summer arrived - more socialising
😀
.
Along with Endless Summer we decided to check out without an agent and the added agent fees, the process was surprisingly easy. The Port office has details of both the checking in and out process and it's a lot cheaper without an agent! Erica and Steve at the port office.
When we left for Florida there was a little convoy of Endless summer, us and Mojito who stopped at the Dry Tortugas.
---