Noank and Mystic Sea Port, Connecticut

Innamorata
Steve & Carol
Wed 1 Aug 2012 19:45
41:21.59N 71:57.91W
Pretty Noank's village shops.
The next day wasn't so nice, Egret putting up sails heading off to Rhode Island, they had a good but wet sail!
We went 3 miles up river past Noank to Mystic Seaport.
Mystic Seaport is a museum come marina, normally $4.50 a foot per night, that's over $200 a night for Innamorata, however, they offer one free night for private foreign flagged boats and throw in admission to the museum as well, not a bad deal and as we like free we couldn't pass it by.
There are also showers and a laundry where the machine costs $1 each so $2 to wash and dry a load.
At the Museum they are restoring the Charles W Morgan, the last wooden whaling boat left, she was one of over 600 such boats launched in 1841 and made 37 voyages lasting 3-5 years in the 80 years she worked, each voyage she would fill her hold with the whale oil of about 50 whales – if you think that there were over 600 similar boats launched in one year alone you can imagine the numbers of whales which were killed by the USA fleet of whalers alone!
As well as Restoration work the Museum has moved old maritime buildings onto the site. The old Block Island lifeboat station
As well as those associated with the ship building industry.
This one was the Plymouth Cordage company building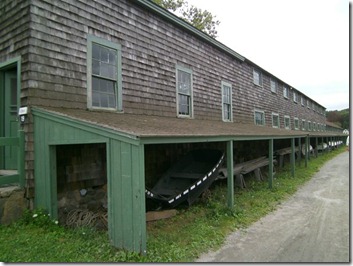 Inside is the original rope making equipment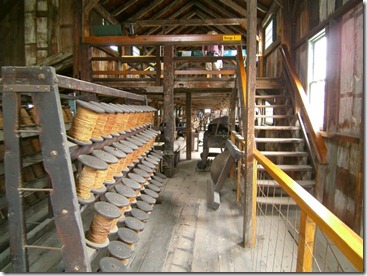 There is a Tall ship which is used as accommodation for children attending dingy sailing courses
From the Seaport its a short walk into Mystic town where we treated ourselves to a meal out.
At Lunch time today we left Mystic to go back and anchor opposite Noank, tomorrow we will head further east.
---