Cascais and on to Sines

Innamorata
Steve & Carol
Thu 16 Sep 2021 20:00
37:57.125N 008:52.005W
We had a good stay in Cascais - the southerly winds which were forecast never really happened - we did get some wind but it was never uncomfortable. We went for wanders around the town which is a pretty vibrant and friendly city, like most cities its old town is near the water and has traditional cobbled streets and tiled properties. We also walked to the Boca do inferno (Hells Mouth) which was originally a cave which was created by the force of the Atlantic waves battering the cost, the cave roof subsequently fell in leaving a chasm, during winter storms the sea explodes upwards inside the chasm like a volcano exerting which has given it the name Hells mouth!
Lucy and myself went to the local Wednesday market and got some lovely fresh fruit and veg , I found a good size beach throw / towel for all of €5.00 as well - bargain!
Like most of the boats we were waiting for a weather opportunity to head south and like everyone else we were aware and mindful of the recent Orca interactions with boats along the next stretch of coastline!
for the past 2 years Orcas have been interacting / playing / attacking mainly sailing boats between the straights of Gibraltar and the Bay of Biscay, the Orcas follow the Tuna etc and migrate North from the Gibraltar straights at this time of year. basically the Orcas have discovered that if they push / bump / bite yacht rudders they can spin the boats and generally push them around! Some people who have reported such encountered often describe the interactions as non aggressive but boisterous and they feel no malice is meant by the orcas however others feel they were under attack! There have been about 50 such interactions and a few yachts have totally lost rudders, some had propeller blades bent, and lots had big chunks of rudder bitten off! - luckily no one has been hurt but many have needed towing in to a harbour - one day earlier this month, 3 needed to be towed in near Sagres on the corner of the Algarve! Also Many owners say that their insurance isn't covering the cost so it's expensive as well as scary! In the event this happens the advice is:
Reported Orca encounters 2021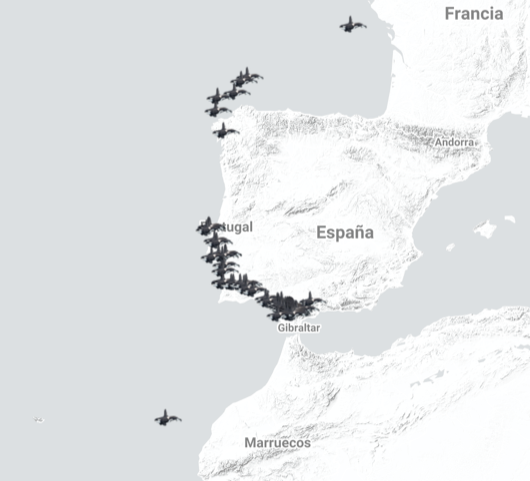 Basically let the little buggers do as they please with the boat! That almost always ends up with boats being damaged - there is good footage of an Aluminium boat being "Played with " it wasn't apparently damaged (though there may have been tooth indents in the rudders 😬) and they lost interest in about 15 mins no doubt because they couldn't take bites out of it! a few boats have taken matters into their own hands and successfully put the engine into reverse and gone backwards at about 3 knots which has stopped the Orcas who move on with out damaging anything! Anyway while we were in Cascais there were some encounters just by Sines - our next stop - this obviously puts a bit of a damper on the trip - the winds were better at night and where we may well consider an overnight sail we didn't fancy an Orca attack at night (they don't care day or night - if they want to play with yachts they do!) It also puts pressure on to maintain a good speed so as not to end up sailing in the dark, anyway we certainly had our own strategies planned out just in case we were one of the unlucky ones, to put things in perspective loads of boats are heading both north and south and only the odd ones every few days or so are picked on, it's thought to be by a couple of groups of Orcas - one group/gang is a few adolescent orcas and the other group is lead by a mother and her calf! So she's teaching her baby bad habits! Still it's what everyone talks about - what will you do if you encounter them etc we have plan A, B and C so hopefully as prepared we won't have to action any of them! Im pretty certain we won't just let them eat bits of Innamorata without trying to deter them as best we can 😉🤔.
Some boats who are on route to the Canaries and would otherwise have travelled further south along the Portuguese coast have decided to head straight to Porto Santo from Cascais to avoid the Orcas.
We left early and soon there were a few other boats all heading the same way as us - so safety in numbers we hope! the wind which was forecast to pick up mid morning didn't really materialise and so we motored towards Cabo Espichel, soon we discovered we had a hitch hiker in the form of a little Robin, it kept moving, over time it got spooked and found its favourite spot was near our anchor bow roller where our cruising chute pole is so we were rather loathed to disturb it but have to admit we did, it soon settled at the back on the dinghy again for a while. We thought it might fly off when we passed close to Cabo Espichel but it stayed for the whole trip - eventually left without a thanks as we entered Sines harbour!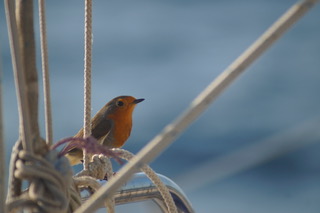 As we approached Cabo Espichel we were approached by a large Rib which came up to us to ask if we were the yacht that had reported the Orca sighting and confirmed they had been seen very close by 😬,
it certainly made us alert and keep a sharp lookout, also when we did get to sail we had cruising chute and mizzen up, cruising chute wouldn't be a good choice if we did have to deal with Orcas if we encountered them
luckily we only encountered dolphins though and arrived safely in Sines and anchored for the night.
---