Menorca to Sardinia

Innamorata
Steve & Carol
Tue 7 Jun 2022 19:00
39:05.903N 008:17.933E
We had a really early start upping anchor at 6am and headed out of Mehon, Falkor and Rockhopper had already left and Adriana (an Australian boat with Craig, Zena & their niece Tab onboard) and Endeavour of Essa (a British boat with Brett & Nina on board)followed shortly after us. Rockhopper and Falkor decided to head as high up Sardinia as they could, while us, Adriana and Endeavour headed to the bottom - having sailed all around Sardinia and Corsica in 2005 we didn't need to visit again and want to push on towards Croatia. We were sailing as soon as we got out of the harbour with genoa, main and mizzen sails and going well until the wind reduced a bit and we thought we would try the cruising chute - we were a bit too close to the wind and as soon as we got it up the wind increased - it didn't feel good to me and I had just said I think we should take it down again when it blew out and most of it ended up in the water 😨 we recovered it and got sailing again on white sails! We realised that it had ripped where I had spent a couple of days repairing it last year! Rather depressing we love that sail - the material I used to mend it was from a sail loft, it should be strong enough and it has been fine on the many occasions we have used it since we left UK until now! I mended it at my mothers house being able to lay it out on a big table to do the repair - it would have been near impossible on the boat! Adriana and Endeavour soon sailed past us with their colourful cruising chute and gennaker sail 🙄. Without ours we sailed on and put our old old MPS into the sock to have a go at sailing with that - it was on the boat when we got her 20 years ago and was misshapen then - now it is a horrible horrible shape with the white panels all stretched and baggy but it did keep us moving for a little while although we found it hard to set as it was difficult to know how to help it 😬.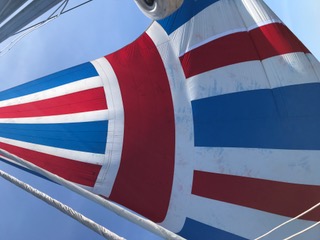 Anyway during the night we ended up having to use the motor to motor sailed for a while as it was hard to stop the sails flogging with the swell, we sailed and motor sailed the second day and arrived in Sardinia at 6.30pm anchoring in-between the others in a bay on the south of the small island S Pietro.
The following day it was set to be windy so we stayed on board, Craig, Zena and Tab came over for a coffee and chat - Steve had chatted to them is Mehon but I hadn't so it was really nice to meet half of our sailing companions.
---