Thompson Bay

Innamorata
Steve & Carol
Thu 23 Apr 2020 02:21
Well while the world seems to have gone mad, Corona virus is now a serious problem in so many countries causing most if not all countries to be in lock down with borders closed, we have many friends stranded in their boats both here in the Caribbean, Panama, Galapagos and on route across the pacific with no where to go and very limited options, maritime law seems to have gone out of the window in preference of countries closing their boarders - no safe port in a storm anymore! In reality these problems are small compared to what my nursing and medical friends are going through in the UK and for those families unable to be with their loved ones when they are dying - which in many respects is the worst thing about this virus!
For those of us on board our boats in the Caribbean we have some serious considerations before the arrival of the hurricane season when many boats will be left without insurance should the worst scenario happen and a storm come their way - in the Bahamas they have a fairly high hit rate so staying put isn't an option especially with no where to run to if one does come along. So Far in the Bahamas there are cases in New Providence, Grand Bahama and Bimini with none recorded in the family islands. The Bahamas doesn't have medical facilities on most of the Islands, normally people are flown to Nassau on New Providence for medical treatment but it takes time to make the arrangements to collect them from the Islands and they do not have the ability to collect people in too many places simultaneously needing help. The Islands have had a curfew and lockdown except for essential shopping since 24th march - at this point boaters were allowed ashore for essential provisions, pharmacy, propane, fuel and exercise. By my birthday on 29th exercise was prohibited for everyone including Bahamians who could just exercise in the immediate vicinity of their properties! By the 2nd of April some people we interpreting the PM speech as saying boaters could no longer go ashore, however despite attempts to get clarification over the next 10 days or so I failed to find anything official about this "order". I emailed and messaged the the local MP a few times, Prime Ministers office, The Long Island Administrator and the British High Commission in Nassau (who were the only people to even have the courtesy to reply to me). We were left not knowing quite what to do, there was no official mandate about boaters going ashore but locally VHF net run by a lady with holiday homes on the island was saying we couldn't go ashore and had to stay on the boats! being goody-goodies we stayed on our boat - not socialised at all and not going ashore. The Islands added periods of hard/total lockdown to their fight against Covid -19 at weekends and a longer 5 day total shutdown over the Easter weekend when no one was allowed to leave their property unless they were a key worker and everyone was instructed they had to wear none medical masks at all times when leaving their home. All this caused a fair bit of anxiety especially among the 3 boats (us inc) here who aren't from the USA! After 12 days on board and going somewhat crazy we did venture ashore to the shop (we had seen some others doing the same and replenish our dwindling supplies, the shop was happy for us to go, didn't mind at all as long as we wore masks and followed safe distancing and hand sanitising rules! I only wish I had got more but hoped to go again on Thursday after the provision boat has arrived and there are fresh fruit and veg 🥺. Later that day the Prime Ministers office put out his plan for boaters - They promised some direct information for boaters a couple of weeks ago but nothing had happened about it until now, The plan issued is a plan to help boaters leave the Bahamas! My concern and the reason I had contacted officials was the they seem to assume that all boats can just hop home to America and have absolutely no regard for the vessels here who like us are a long way from home, will have a long passage to get there, require a decent weather window when weather patterns in the North Atlantic are more stable! It is generally accepted that May is the time to make such a passage.
Basically no boaters can go ashore, move your boat etc at all unless it is to leave the country, they will not assist boaters with any medical needs they have and suggest people on yachts here in their waters look for medical assistance somewhere else!
The shopping solution is to use a local lady who has just set up a shopping service and is charging boats $35 a shop! This concerns me as I have no idea about her hygiene standards apparently she provided a shopping service to numerous locals therefore visiting multiple places and having an unknown number of contacts with people etc. Anyway I did put in an order with Busy Bee, it wasn't terribly successful for many reasons, I put my order in via email and ordered primarily items I knew they had in the shop, she emailed from the shop to say that a few items were out of stock which was fine, the shopping was delivered to the dock and was mostly Ok lettuce and cabbage old and not in a condition I would have purchased, there were a fair few items not there and some substitutions or items not quite what I had wanted, I emailed her to ask about the missing items and she said they were out of stock and she would get them the next day for no extra charge so that was fine - come the second delivery things were not so good she got much larger quantities than I wanted - 1 avocado became 6 (2 of which were rotten)and cost of $19 😱,wanted 6 bananas got 13 and so on, 4 kitchen towel rolls turned up as 4 dish cloths. To say I wasn't happy is a bit of an understatement - much of it was down to misunderstanding but it was our money being wasted! With a possible weather window looming I decided to try and persuade someone in authority to let me go ashore to do one provisioning shop before we leave! There had been a roll call of boats on the 3rd of April at the request of Ian Knowles, Long Island's
Chief Councillor, so I decided as no one else had ever responded to me I would try him - poor man, it had helped that the night before the Bahamian Prime Minister gave speech and said
"We are all human beings, but we must all work at being human and humane. To be human we must care about others. To be human is to be kind, to be generous, to be considerate of each other, especially in times such as these. Let us all be more humane and human by helping to protect each other
"
I pointed out we were not being helped or protected and were being treated like lepers 😬 That there was no reason the 6 boats left couldn't go ashore we have all been here since the end of March and had all previously been ashore. We had a long passage to prepare for and not being allowed to shop for no reason was adding extra anxiety and stress to an already stressful situation - I did go on a bit 😬 then had the idea to send a picture of the Atlantic ocean with weather systems tracking across it and our route home 😄 Bingo - he said he was so sorry about the situation, that he was a sailor and could relate in some way to our predicament and he would contact the Covid 19 task force and see what he could do - very soon I got a reply - he had verbal consent for the boats left in Thompson Bay to be able to shop - he was very sorry for the stress caused etc, I was soooo happy, I called the other boats on the VHF to let them know as well, everyone was please and I felt like a weight was off my shoulders.
So here we are we have been here for 4 weeks seen virtually nothing of Long Island which has a world famous blue hole on it and lots of shallower ones around its shores - a few not too far from where we are anchored but with Lockdown going visiting them is not an option. We did manage one walk ashore before they stopped exercise, a fairly short walk over to the other side of the island.
We also saw some nurse sharks when we first went to the dinghy dock taking advantage of the scraps two local fishermen were throwing into the water while cleaning their catch.
On my Birthday I swam to our friends on Jos and Erica for sundowner and nibbles, all be from in the water - social distancing, Steve cheated and went by dinghy!
I did some sewing - we took the Genoa down and I did some repair work on the UV protection strip, I also finished the cockpit enclosure with a little help from Steve for the patterning and many fittings before it was completed, its taken me a while as I started back in Deltaville last year, now we will be dry and warm when the weather gets colder on our way back to the UK 😁.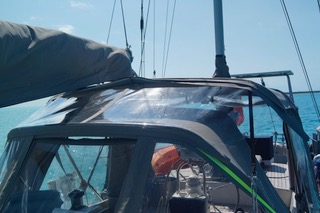 We have cleaned the bottom of the boat twice😆, did laundry and usual chores, my bread making has improved - discovered that
it cooks very nicely inside my le creuset pot.
We did our best to entertain ourselves - Life onboard has become somewhat boring - we find ourselves looking at the depressing corona Virus statistics from the UK and other countries and feeling that lockdown in the UK is not strict enough having seen how it's done here, the Family islands have kept the virus at bay by their hard lockdowns and curfews! Maybe we are just jealous that we can't go ashore for a walk or explore at all? The water around the bay is often stirred up and murky and there are very few fish so snorkelling and swimming are boring as well. We really are ready to move again - today I did one final shop to get a few last minute things and some fresh veg tomorrow we are setting sail for the Azores. There is an SSB net running for boats going back so we will be keeping in contact with other boats while on passage - Steve is a net controller some evenings. There is another boat leaving tomorrow from the Turks and Caicos which is about 180 miles away and another one leaving from the top of the Bahamas heading to Bermuda but no one closer we have heard of.
---