Puerte Perme

Innamorata
Steve & Carol
Sun 27 Jan 2019 19:07
08:44.195N 77:32.67W
We motored the 8 miles to Puerte Perme a small well sheltered bay with reefs on either side, as you approach the anchorage you pass the village of Anachucuna which is a traditional Kuna village, once in the bay you see another newer village set slightly back from the shore. The skies were somewhat cloudy so not great for seeing the reefs and obstructions and the water isn't very well charted - even with the Bauhaus charts there is little information so a sharp lookout is required.
There was one small yacht already in the anchorage and we managed to fit 3 of us in with Quicksilver choosing to anchor just outside the bay. Soon we were approached by a local boat with women in asking for an anchoring fee of $10! The bay was very quiet and after our overnight passage we were happy to go to bed early and catch up with some sleep - we were woken at 2 am when we had swung around and the boat was gently hitting the bottom - quickly we pulled up 5 meters of anchor chain to get away from the shallow and went back to bed. In the morning we re-anchored a little further into the bay to ensure we were well away from any shallows. We were visited by a Kuna man and his 2 boys selling coconut, plantains, a fruit I didn't recognise and a basket. As soon as we took their line they all hopped onboard - I purchased a coconut, he asked for books or magazines but unfortunately we didn't have any - we use Kindle for reading books, the children accepted some crayons I had on board but they didn't want paper! Soon they moved on to visit Lulu where Steph bought the rest of the goods they were selling.
Later we went ashore on mass and had a pleasent walk ashore, we wandered around both villages and were a source of interest to the children who came out to looks at us, giggle and laugh, it was Sunday so the village was quiet and the adults didn't seem interested in us at all!
Everyone appears to have a canoe or ula which were all pulled up on the shore, these are mainly hand crafted from tree trunks and used for fishing, trading or visiting other villages. The homes were all traditionally built with wood, bamboo and palm leaves with the odd bit of corrugated iron or concrete thrown in! Homes in family enclosures with a sleeping, living hut with mud floor, hammocks and nets for the clothes, a cooking hut with a fire in the middle made from coconut husks and often a small garden with fruit and vegetables growing.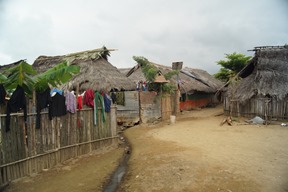 Each village has a congresso / meeting hut
Strange gun butt decoration on a bread shop!
We found a couple of ladies and an older girl sitting in the shade, one was making a mola which was interesting to watch and the other chatted to us in Spanish, Kuna are very reluctant to have photos taken as they believe it takes their spirit away so we didn't attempt to take any pictures of the adults, some children want their picture taken while others indicate no when asked if it's OK, we were able to take pictures of the village though.
Each Kuna family has it's own land where they grow produce, there are plenty of coconut trees as well as bananas, plantain, sugarcane, cocoa - in the new village where the homes are less closely packed we saw gardens with chilli's, peppers, tomatoes and pumpkins as well.
there were an amazing number of ants – they seemed to particularly like a certain bush and there were busy ant roads leading to and from the bushes where leaves were
There were donkeys tethered grazing and a couple of horses.
Near the new village there were also a few old rotting pieces of agricultural machinery bought in, in an attempt to get the Kuna to farm coconuts more intensively - coconut oil is produced in these islands, the machinery seem to have been of little interest to the tribes who use the old method to two bits of wood to press sugarcane and coconuts.
Remains of a pier built to bring the machinery ashore
After our walk about everyone came to Innamorata for sundowners and nibbles and we had a great evening - we have now called ourselves the S2R2.4 rally group!
Honey Ryder and Lulu heading out of the anchorage on our way to Isla Pinos
---