Culatra

Innamorata
Steve & Carol
Mon 4 Oct 2021 16:23
The island is a big sand spit and there are no cars etc just a few tractors which move stuff between the 3 villages and move supplies from the delivery boats as well as collect rubbish bins etc. The island had a reputation for being a bit hippy and laid back and gets a lot of day tripper holiday makers from the mainland arriving on ferries to enjoy the long sand beaches and fish restaurants. Most of the villagers seem to be fishermen and the small harbour is full of local boats.
We spent a week anchored and the first time we went ashore we walked through the town and across the island on a raised walkway to the Atlantic side where there is a lovely beach which runs the length of the island - there was a small area with sunloungers, shades and a cafe / bar which was all very quite as we were there before the first visitors arrived and the rest of the beach was virtually deserted.
The town was quiet with narrow paths with large concrete blocks set in the sand to make walking easier.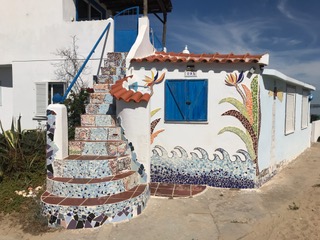 not sure about some garden designs though 😬:
We also had a longer walk along the tractor road and beach to Farol on the east end of the island. Sadly it seems the centre of the island is the dumping ground for old building materials!
Southwest of the small fishing village Hangares, on the way to Farol there was a small complex with 5 or 6 derelict building - not sure what they were once upon a time, but it was sad to see them in ruins.
As we walked along the along the North beach we collected some rubbish😡 which included 2 coats, fishing line and bits of rope and net as well as plastic and glass bottles:
At Farol we stopped in a cafe for some refreshments before we headed back along the lovely south beach - walking a couple of km along the lovely pristine beach which is remarkably people, plastic and rubbish free with lovely clear water, reminding us of the Caribbean 🙂.
Farol appeared to be a bit more of a holiday location and was prettier and greener than Culatra - not that the pictures show that!
\
Back in the anchorage we did get in the water - it took 2 goes but we managed to give the whole of the underwater hull a clean for the first time since we were in the Bahamas - now we just have to keep it clean 😬.
---