Back on the move again.

Innamorata
Steve & Carol
Wed 12 Sep 2012 19:38
40:41.79N 74:03.89W After nearly three weeks at Port Washington during which I flew home to the UK for 12 days leaving Steve by himself on board Innamorata, luckily Craig and Karene on Il Sogno arrived a few days after I left along with Rob & Sarah on Serefina so Steve had some company.
We decided to take the train into New York to be tourists for a day and went up the Empire State Building which was great , walked in Central park, visited the Museum of Natural history and wore our legs out walking miles from 34th street up to 82nd and back.
East River from the 86th floor.
Long Island in the distance
Looking south - the financial district and New Jersey on the
other side of the Hudson River
The Iron, New Yorks first Sky scraper built in 1902 soon to be dwarfed by the empire state building built only 29 years later
Looking north - central park in the distance
Today it was time to move on. We set off early to catch the tide through East River's Hells Gate where we had 4 knots of tide flowing with us and headed back to liberty anchorage.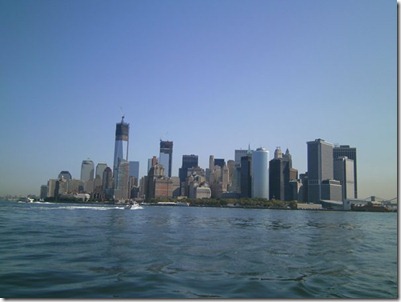 ---