Mustique photos of island and Blues festival.

Innamorata
Steve & Carol
Sun 4 Feb 2018 08:41
We Loved Mustique – it is really quite a beautiful and well looked after Island, the locals are friendly and it has a nice feel to it.
After a rolly night we caught up with Beverly and Frank from Louanne, they had been to the festival and were heading north.
We snorkelled and swam in the very turquoise water, the coral isn't great – rather dead looking but there were quite a few fish, there are also lots of turtles that pop up around the boats.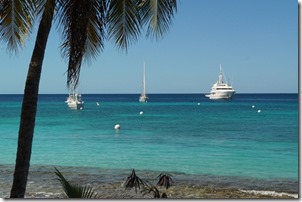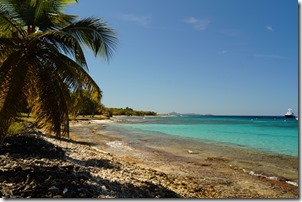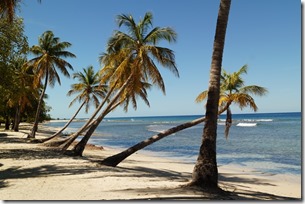 There are seats, tables and picnic areas strategically places around the coast.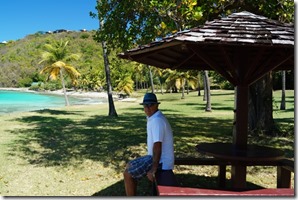 We did the lagoon nature trail walk which is in the south west of Mustique, we followed the trail
around the lagoon through mangrove forest, along the way there is a hide for bird watching which had some resident Geckos in the rafters, there weren't many birds in the lagoon but we saw a few along the way - black birds, great blue heron, osprey, frigate birds, pigeons and heard a lot up in the trees.
Lagoon beach on the south of Mustique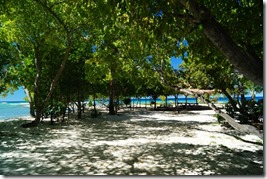 Mangrove roots growing out of the ground to breath Wild pineapple plants they are growing on Manchineel tree,
We also walked over to the Atlantic side of the island to see Macaroni beach – said to be the No1 beach in St Vincent and the Grenadines.
On the way we passed the equestrian centre, the tennis club and the football field with palm trees around it.
We also encountered a few of the wild tortoises which when you look are plentiful.
and some rather grand driveways views of some of the islands properties.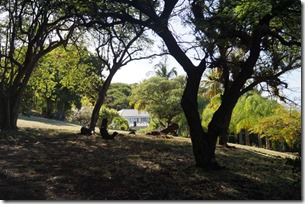 Our dinghy with Basils bar in the background – the venue for Mustique's Blues Festival which is held every year to raise money to help with education on St Vincent .
On Saturday night we went along with Richard and Julie from Escapade, the entry fee was EC$25.00 each, there were surprisingly few people – I guess about 120 (maybe 150) people in all came and went throughout the evening – the festival is held for 2 weeks with the same people playing each night, there were a few people who looked like they were locals but not many, there aren't that many people on the island and it's not easy to get to, as Mustique is a private island and it only has 2 hotels, other island guests must rent the houses – you can rent Mick Jagger's island home for a small fortune! There also weren't very many cruisers there, we think that they quite like the small venue and audience, the musician's all had a great time truly enjoying themselves, afterwards they were friendly joining in taking pictures of each other, dancing and chatting to people. We had a great evening good company and good music.
The line up included, Joe Lewis Walker (below), Ian Seigal, Rich Estrin (an amazing harmonica player), Murali Coryell, Tia Gouttebell, Amar Sundy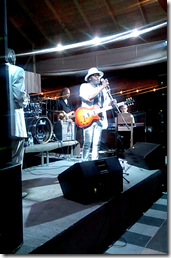 ---